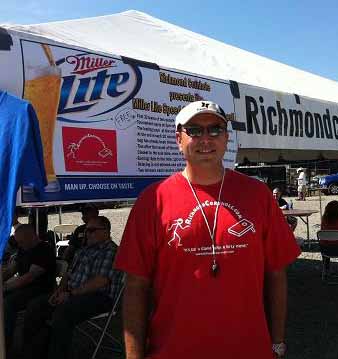 Springtime comes suddenly to Richmond: It's cold and snowy one day, and the next day shirtless guys are playing cornhole on Monument Avenue, beer in hand.
And a local entrepreneur is turning Richmond's love of cornhole into a growing business.
James Rastberger launched Richmond Cornhole two years ago, hosting three leagues and monthly tournaments. He also sells cornhole bags and boards.  (BizSense wrote about the business last year.)
Rastberger has since added more teams and expanded with a tournament at Colonial Downs, and he's looking to start some tournaments at local festivals.
BizSense checked in with the part-time cornhole host to see how the leagues have been doing and to explore the trash-talking subculture.
Richmond BizSense: How has the business grown?
James Rastberger: Last June we held the largest cornhole tournament in Virginia at Colonial Downs. We had 86 teams playing on 16 cornhole sets, and we were under these big tents. Colonial Downs heard about me on the radio and contacted me last spring about putting together an event. We gave away $1,500 in cash prizes.
We're doing another one on June 16 called the Ultimate Tailgate Toss, which will cost $40 to $50, and people can bring coolers and beer and grill out. Last year you had to buy from the concession stands. This year the prize will be $2,000. I'm shooting for 128 teams.
I'm also meeting with Cullen's Cove in Mechanicsville about hosting tournaments there.
RBS: Where are you hosting tournaments now?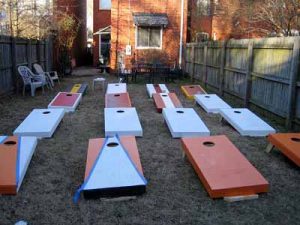 JR: Last spring we were playing at Quaker Steak and Lube and Black Finn, Baileys and the Epic Theatre (formerly the Hat Factory). This summer we did one at Sharky's and another one in the fall. They have the best venue for it. During the winter months we're at Epic Theatre, and we hosted one there this March.
RBS: Last year you told us you made $12,000 in 2010. Was 2011 profitable?
JR: Yes, absolutely. The league brought in $15,000 in revenue last year. It's paying for itself. In the summer we have about 20 to 30 teams, but the winter teams bring more because there are fewer things going on. We typically get anywhere from 40 to 50 teams during the winter. It's also really good for the bars. I remember overhearing at one bar they did $4,500 in food and drink at one of my tournaments in one day.
RBS: Any bars that didn't pan out?
JR: We won't be playing at Sharky's [in Innsbrook] anymore because they're trying to run their own tournament this spring. We were also trying to get a league going at the Fish Bowl, but we never did anything there. Their space wasn't really ideal.
RBS: What have you been doing to market the league?
JR: Advertising is my 9-to-5. I probably spend about $150 a month between Facebook, Google and email marketing. Last year we were on ESPN950. Colonial Downs did some marketing on their website and newsletter and some radio spots in the Richmond and Tidewater market [for the tournament], so we got exposure from that.
RBS: How are board and bag sales?
JR: It's good — now I subcontract it out. I have a guy that makes the bags and boards for me. An unpainted set costs $80, and painted sets with two or more colors cost $120. A set of bags is $30.We sold 25 percent more boards and bags [last year] than in 2010.
RBS: What's been a challenge of running the leagues?
JR: It's difficult to find a location that has the space to allow people to have a beer in their hand. They have to have big patio. I'm also working on getting my MBA at VCU, and I just had a kid, so I don't have a ton of time to solicit bars and restaurants to create a bunch of leagues.
RBS: With any drinking game, there's trash talk. How bad is it?
JR: When you get down to the final games there might be a little bit, but for the most part everyone's super friendly. When there's money on the line, people get amped up. The girls we have that play regularly are just as competitive as the guys.
RBS: What are your plans for this year?
JR: I would love to get a league in the West End and one in Northside and [I'd] love to have one downtown and one on the Southside. I'm looking to have tournaments every six to eight weeks because the monthly thing was too much for me.
I was approached by Capital Ale House last year about doing something for Oktoberfest. They didn't end up going with it, but that's the kind of stuff I want to do. I want to be a part of festival that provides a lot of exposure. I want to do the River Rock Fest, Irish Festival and Shamrock the Block.
RBS: Are you still having fun with it?
JR: It's not miraculously rewarding from a financial perspective, but it's cool to have my own little mini-business that I get to do. It's a good icebreaker at networking events.