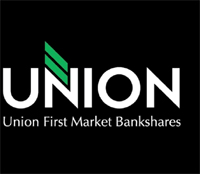 The area's biggest bank is closing four of its Virginia branches, including one in Richmond.
Union First Market Bank will close branches in Charlottesville, Fredericksburg, Port Royal and Mechanicsville.
The branches will close in May and will bring Union's branch count to 94, according to an annual report filed last week.
Union spokesman Bill Cimino said Monday that customers were notified last month.
The local branch set for closure is at 7279 Bell Creek Road, between Mechanicsville Turnpike and Cold Harbor Road.
"We decided based on current and future market conditions that these branches should be consolidated," Cimino said, adding that the bank conducted an analysis of the performance of all its branches in late 2011.
When considering the closures, Union looked at the number of branches in a given market, the demand for those branches and the growth potential of each market, Cimino said.
For example, the bank had five other branches in Charlottesville and seven others across Fredericksburg that will pick up the business of the closed branches.
Union owns the real estate at each branch and will put the locations up for sale, Cimino said. The bank also is not yet sure how many workers might be displaced.
"We're trying to place as many employees into open positions as we can," Cimino said.
The bank has about 1,045 full-time employees.
The consolidations come after a year of expansion for Union.
Last May, the bank acquired a branch, deposits and loans in Harrisonburg from NewBridge Bank. In that deal, Union retained the commercial loan operation team from the branch and all employees of the branch.
In June, it opened seven new branches inside Martin's grocery stores in the western part of Virginia.
It also built out a downtown Richmond headquarters in Three James Center, moving its operations from the Turning Basin building in Shockoe Bottom.
With $3.9 billion in assets, Union is the largest bank headquartered in Richmond. It controls about 2.25 percent of all deposits in the Richmond market. It remained profitable throughout the recession and brought in a profit of about $28 million in 2011.