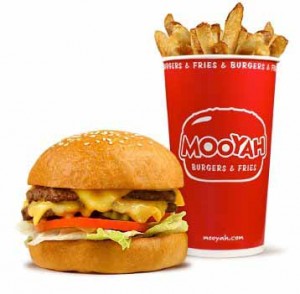 Richmond: Prepared to get Mooyah-ed.
Two Richmond restaurateurs are opening a Mooyah Burgers location at The Corner at Short Pump this year.
Brothers Gulu, 40, and Gurpreet "P2" Sandhu, 32, are also opening a location at William & Mary in May to test the market.
"We'd been scouting locations throughout the entire state for about a year now," Gurpreet Sandhu said. "We preferred Short Pump to be first because we live in Richmond. It just so happened we were able to get a deal done with the college first."
The formula is simple: Mooyah sells double-patty burgers, fries and milkshakes for about $5 and offers unlimited toppings for free. It also has an "ice burger," which is a patty wrapped in lettuce instead of a bun.
Like fast-growing chain Chipotle, Mooyah grills its food in front of the customer. Patrons can also order from a kiosk like at Wawa.
The Sandhus leased 2,000 square feet in Short Pump in January from Cushman & Wakefield | Thalhimer. They expect to have seating for 75 to 80 people.
Mooyah will have some competition in that area, including Red Robin, Five Guys and Johnny Rockets. And other burger-focused local restaurants have been popping up, including Burger Bach in Carytown and Station 2 in Shockoe Bottom.
But Gurpreet Sandhu said the three-item menu will give him a leg up on the competition.
"All we're serving are burgers, fries and shakes," Sandhu said. "You go to Red Robin and they have a complete menu. There's no other direct competition that's just doing burgers."
Mooyah isn't the only chain looking to open up on the Corner. Saladworks is also planning to open a location there this summer.
Started in Texas in 2007, Mooyah Burgers has grown to 30 restaurants in California, Tennessee and Connecticut.
It costs from $350,000 to almost $500,000 to open a Mooyah, including a $30,000 franchise fee, according to the restaurant's website.
Both Sandhus grew up in the restaurant business.
"Our parents got involved in Subway restaurants in the mid-'80s," Gurpreet said.
After college the two took over the family business and now operate 15 KFCs, Taco Bells and Subways in Central Virginia.
Mooyah will break ground on the new location in June and should be open before year's end next door to the Olive Garden.
And Short Pump won't be the last place in Richmond to get Mooyah-ed.
"The Hull Street corridor over on the Southside, the Northside, Ashland and the VCU area are all good areas," Gurpreet said.