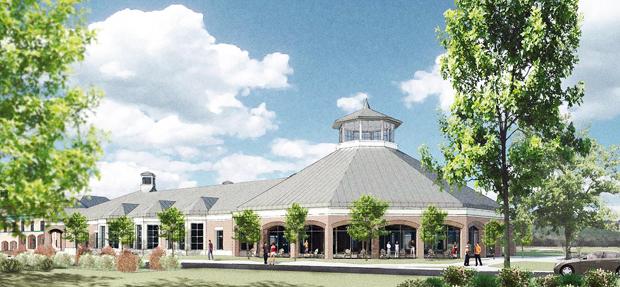 Collegiate School has sold $24 million in revenue bonds to build a new student center on its main campus and renovate its arts center.
Keith Evans, the headmaster of the school, said the new 27,000-square-foot Academic Commons is designed as a place for middle and high school students to study and to hang out.
"There will be a common area for students to have some down time or grab a drink or some food," Evans said. "The facility will also be a collaborative work space that many colleges and universities are building now."
The school is also expanding its arts center. It will add an outdoor plaza, thee art studios and some gallery space.
"The performing arts center was built in 1993, and it's grown a lot in the last few years," Evans said. "We've outgrown it very quickly."
The bond will also cover the construction of a parking lot, sidewalks and other campus improvements.
The cost of the project is $23.8 million for the building and renovations. Evans said the Academic Commons would cost about $14 million, and the renovations make up the other $9 million.
Phyllis Palmiero, chief financial officer for Collegiate, said the school sold the tax-exempt bonds this week.
"The bonds were purchased by retail investors, money managers and institutional investors," Palmiero said.
The Henrico Economic Development Authority issued the bonds. The county approved the issuance of the bonds for up to $24.5 million in February.
Collegiate will pay a 4 percent interest rate on the bonds. Davenport & Company served as the underwriter for the project.
Collegiate isn't the only Richmond prep school spiffing up its buildings. St. Catherine's School, a private school for girls on Grove Avenue, last summer wrapped up a $23 million, four-year expansion project.
Evans said Collegiate hasn't turned to bonds to finance a project since the late 1990s.
"We bought a property in Goochland County for an athletic campus and had a number of other projects that we used bonds for," he said.
In 2000, Collegiate bought a 155-acre property in Goochland County to move its Robins Campus athletic facility. Most of the property is used for baseball, softball and tennis, plus a fitness facility.
Evans said the school has been fleshing out the plan for the project for two to three years — it was just a matter of where the money was going to come from.
The 55-acre Mooreland Road school enrolls about 1,500 students. The new student center will serve the school's 516 high school students and 495 middle school students. Tuition is between $17,000 and $20,000 for the 2011-12 year.
Collegiate plans to break ground on the student center in May and hopes to be done in time for the 2013 school year.
Check RBS on Monday for a list of the region's top private schools.