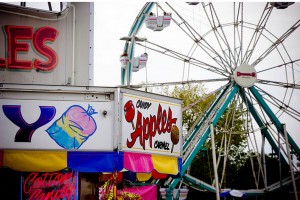 A rival fair operator wants to capitalize on the downfall of the State Fair of Virginia.
Universal Fairs, a Tennessee-based operator of fairs, festivals and expos across the country, is in discussions with the Richmond International Raceway to host a fair in 2012.
The event, according to Universal Fairs owner Mark Lovell, is tentatively named "The Richmond Fair," and the company is in talks to lease the RIR grounds during the same week the State Fair of Virginia had planned on running its annual event in Caroline County.
"We have a letter of intent to rent the facility from the RIR complex," Lovell said Monday in a phone interview. "We're waiting for them to put a lease together. We're ready to move."
The future of the official State Fair of Virginia is still in limbo. The fair's assets, including its trademarked name and its 330-acre fairgrounds in Caroline County, are to be auctioned next month by Richmond-based Motley's Auction & Realty Group.
The State Fair had been scheduled for Sept. 27 to Oct. 3. That was until the SFVA, the nonprofit that operated the fair each year, declared bankruptcy after a financing deal left it $80 million in debt and at irreconcilable odds with its lenders. (You can get caught up in a story here.)
Barring some last-minute heroics — perhaps a savior swooping in at the auction to buy the assets and quickly scrape together an event — Lovell is betting that his company can fill the hole left by a fair that draws hundreds of thousands of patrons from around the state.
"When the fair filed for Chapter 11 … we saw a void," Lovell said.
Should it get the green light from RIR and Henrico County, Lovell said Universal Fairs would spend between $800,000 and $1.4 million to put on its Richmond fair.
"We like to go big," Lovell said.
To help clear a path to doing business in Richmond, Lovell said he's considering bidding on the SFVA trademark and its land at the auction May 22. (If he wins the land, his negotiations with the raceway could be moot).
"If the name is up for sale and it's feasible to purchase it, we'll make an offer," Lovell said. "But we don't have to have the name to put on a good event."
This is Universal Fair's second attempt to break into the Richmond market. The last try ended in a lawsuit.
Universal and SFVA tangled in federal court in 2009 after Universal Fairs tried to start the "Richmond State Fair" and SFVA sued, claiming trademark infringement, among other alleged grievances.
That event was to be held at RIR after the SFVA left the grounds for its new home at the Meadow Event Park in Caroline County in 2009.
The suit was eventually settled when Universal agreed not use the term "state fair." Universal ended up canceling its plans for a Richmond fair.
Lovell will face pressure to maintain the fair's history of agricultural contests and exhibitions. The SFVA, which in addition to the usual rides, games and deep-fried everything, emphasized Virginia's history and agricultural heritage.
RIR spokesperson Aimee Turner said the 1,000-acre complex has heard from promoters looking to fill the fair's void. She would not confirm or deny whether Universal Fairs was among them.
"We have talked to some promoters on the amusement side of things — rides, games, concessions," Turner said. "But not on the agricultural side — what most view historically as the fair."
"I think we have to weigh out the options to make sure it's right for our community," Turner said. "It should be all-encompassing, including the educational side. That's how we've viewed what a fair is."
Lovell said he wants to keep an agricultural element. He has invited the Virginia 4-H to host livestock events.
Based just outside of Memphis, Universal Fairs began by putting on trade shows such as boat shows and hunting shows. It still does that through its Expo South arm.
The company began promoting fairs in 2007 and in recent years has scooped up troubled fairs that fell on hard times.
It recently purchased the troubled Georgia State Fair. It also took over the King County Fair in Washington State and runs the Delta Fair & Music Festival in Tennessee.
"We just try to put on a good, clean, family-friendly event where people can see some live music, ride some rides, eat some fair food," Lovell said. "That's what we deliver."
This would be its first event in Virginia, Lovell said.
Despite the potential obstacles and any lingering animosity from its previous attempt at running an event in Richmond, business is business, Lovell said.
"Nothing we do is out of any ill will," he said. "I'm sure Burger King didn't get into business just to make McDonald's mad.
"We're not out to take over the world. We're out to have a good time and make a little money."