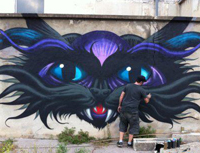 Jon Baliles and Ed Trask are joining forces to paint the town — literally.
The two friends will put on the first RVA Street Art Festival this weekend, bringing 18 artists from Richmond and across the country to give the James River Power Plant Building and Floodwall in Shockoe Bottom an $80,000 makeover.
"We're looking at this festival as a way to expand the conversation about public art in the city," Baliles said. "Not just for touirsts, but people that may come down for Friday Cheers. It's a highly trafficked place."
The free event will start Thursday at the Virginia Museum of Fine Arts with the main festival on Saturday.
The artists will paint six or seven 18-by-32-foot murals on the 250-foot building near 12th and Byrd streets. The Baltimore-based Cordish Company owns the building.
"People will get to watch art being created as it goes up," Baliles said.
The entire event is costing about $80,000 for artist fees and supplies. Baliles said that the proceeds from beer, food and art sales from the Saturday event would go to Art 180, a local nonprofit.
Trask and Baliles got together last April to start fleshing out plans for a street art festival. The two met last March at a Great American Cleanup event put on by Altria.
"Ed was hired to lead the painting of a mural he sketched out, and volunteers from Altria painted the mural," he said. "The mural went on the 95 overpass on Boulevard."
Baliles said he got the idea for the festival after watching Shepard Fairey, a street artist famous for his Obama "Hope" poster, draw crowds in Venice.
"He was there doing public mural sessions in Venice, and people stood around and watched him work," he said. "I was mesmerized."
The murals will stay up for two years. Baliles said he and Trask are looking to make this a biennial event.