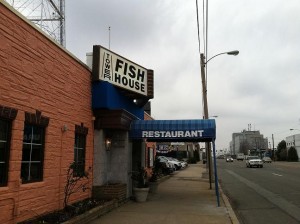 It's like déjà vu all over again.
Tower Fish House, which was formerly Byram's Lobster House for 70 years, quietly closed in March after a one-month run. A paper sign in the window gave no explanation other than that the business was closed. The restaurant closed March 6, according to its website.
Bandazian and Holden is listing the 7,000-square-foot restaurant at 3215 W. Broad St. for sale for $115,000.
Tower Fish House opened at the beginning of February after Byram's closed the previous month. Both restaurants were run by Jeff and Corina Kelso.
The Kelsos bought Byram's from the previous owners and reopened the restaurant in August.
The seafood joint isn't the only place in Richmond that's been a death sentence for restaurants.
The space at the corner of West Main and Allen streets in the Fan has been home to Cirrus, Dogwood Grille & Spirits, Plaza Mexico, Mainstream, which closed last May after just six months, and now Peacock's Pantry, which opened in December.
Also in the Fan, the space at Floyd and Robinson has been a revolving door. Since 2010, the spot at 2526 Floyd Ave. has been the FanHouse (which was temporarily closed last year) and in the past been home to Konsta's, Carlton's and Verbena.
Read more: Do some leases come with a curse clause?