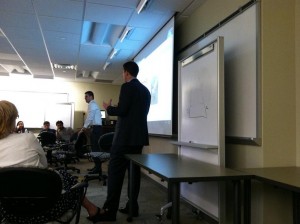 A group of aspiring entrepreneurs took a dip in the shark tank Monday night.
Five teams of students made their best pitches in the final round of the University of Richmond's annual Business Pitch Competition.
The winning pitch came from UR students Kailey Raymond and Geoff Weathersby, who described their idea for InLieu, a nonprofit crowd-funding website that wants to help users fund social causes.
The team from InLieu received $3,500 and the chance to state their case to a group of local angel investors.
The Association for Corporate Growth (ACG-Richmond) provided the prize money.
Second place and $1,000 in prize money went to URMenu, a mobile app that seeks to revolutionize the collegiate dining hall experience. If you really like the cafeteria's chicken Parmesan, you can get an alert on your mobile phone when it's being served and can invite to your buddies to chow down with you. Matthew Sobel, Michael Shrum and Christopher Rigoli conceived it.
Third prize and $500 went to FastFit, a brand of resistance exercise bands that will cater to office workers, commuters and other people who are forced to sit for extended periods of time. Other names considered for the product by creators Matt Woolley and Anthony Rinaldi included Traffic Triceps and Cubicle Curls.
The other finalists included a product called Zing Case: a colorful case for iPhones and iPads that also charge the devices' batteries.
And there was Warm Mug, a portable, self-heating mug for when your Starbucks goes cold.
A total of 27 teams pitched ideas for the contest, which began April 9.
They were grilled by a panel of judges made up of local businesspeople, including Robin Smith of Entrepreneurs' Source; Mike Bucci, owner and founder of K&M of VA; Mark Deutsch, founder of Mark Deutsch; Laura Posey, from Dancing Elephants; Will Boland, co-founder of CarLotz; Paul Watson, co-founder of Ledbury; Avrum Elmakis, owner of Best Bully Sticks; Roy Goodman, CFO at Luck Companies; Hayden McMillian, managing director at Crescent Capital; and Frank Ball and Mike McGinley, both managing partners of New Dominion Angels.
The contest is part of the UR Entrepreneurship Club.
Jeff Pollack, assistant professor of management at the Robins School of Business, moderated the event.