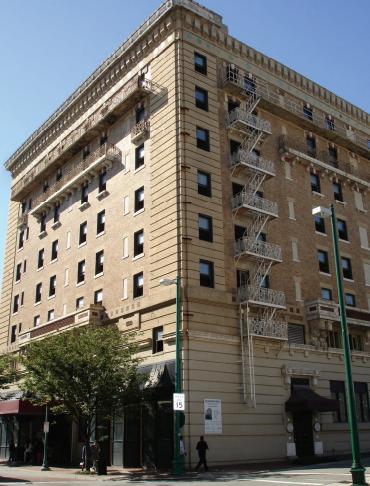 Justin French wasn't the only one to try and use historic tax credits like an ATM machine.
State and federal authorities — with help from the Richmond-based Virginia Department of Historic Resources — have exposed another large alleged tax credit fraud, this time in Norfolk.
George Hranowskyj, 47, was arrested Thursday at his downtown Norfolk office and accused of engaging in a six-year historic tax credit fraud scheme valued at about $11 million.
The charges came after a recent grand jury investigation and claim that Hranowskyj and unnamed others allegedly pocketed approximately $8 million from the scheme.
Charges were brought by the U.S. Attorney's Office in conjunction with the FBI, the IRS and the FDIC. The 14-count indictment charged one count of conspiracy to commit wire fraud, seven counts of wire fraud and six counts of unlawful monetary transactions. The charges carry up to 20 years in prison.
"George Hranowskyj is accused of cheating taxpayers and investors out of millions intended to preserve historic properties in Virginia," said Neil MacBride, U.S. Attorney for the Eastern District of Virginia, in a prepared statement Thursday.
"We're grateful to our law enforcement partners who unraveled and continue to investigate this alleged long-term, complex fraud scheme that has affected so many in Tidewater."
Similar to French, Hranowskyj's indictment alleges he and his business partner, referred to as "Conspirator A," fraudulently inflated the amount spent on the rehabilitation of historic properties in order to receive more credits.
Using state and federal tax credits, developers can receive up to 45 percent of their construction costs back in the form of credits, which are typically sold to investors and used as leverage with banks for other projects. So the higher the "cost" to fix up a building, the more developers can sell in tax credits.
"The fraud alleged in the indictment represented a gross manipulation of the tax system which harmed the community, taxpayers and the government," FBI Special Agent in Charge John Boles said of the charges against Hranowskyj.
Hranowskyj and his business partner also allegedly doctored documents and used the funds received from selling the credits for personal purposes.
Hranowskyj's most notable project was the seven-story former James Madison Hotel on Granby Street in downtown Norfolk. The property was converted into commercial office space.
More than $5.6 million in state tax credits were awarded to the project in 2009.
The case against Hranowskyj is complex and involves a former employee who when facing federal charges of her own apparently blew the whistle, and a failed Norfolk bank.
Things began to unfold when the offices of Hranowskyj and a business partner Eric Menden were raided by federal authorities last year.
The building in which Hranowskyj's company, Norfolk Property Development, is headquartered is tied up in a Chapter 11 bankruptcy case. That building is owned by an LLC tied to Hranowskyj and Menden. Federal court records show that during testimony at a bankruptcy hearing this year, the attorney representing the LLC told a federal judge that the FDIC and the FBI spent nine hours in a raid on the office and left with files.
Menden was not named in Thursday's case.
Hranowskyj, Menden and Norfolk Property Development were also investigated for their connection to Bank of the Commonwealth, a Norfolk bank that was seized and closed by the FDIC last fall.
The bank loaned tens of millions of dollars to Hranowskyj and Menden's projects. The FDIC and SEC have been investigating the bank for at least a year, according to disclosures the bank made prior to its failure.
According to several sources familiar with the case who spoke on condition of anonymity, authorities were also tipped off to Hranowskyj's alleged dealings after a Norfolk Property Development employee was convicted of federal bank fraud for falsifying loan documents to Bank of the Commonwealth.
Facing a federal sentence, sources say that Natallia Green gave the feds information on Norfolk Property Development's dealings with Bank of the Commonwealth. Federal court records show Green was given five years of probation and a fine in exchange for her cooperation with an investigation.
The case against Hranowskyj was also built by the Virginia Department of Historic Resources, which administers the tax credit program in Virginia and approves credits to be issued.
Sources familiar with the case told BizSense that cues and patterns reminiscent from the Justin French case raised red flags.
One source familiar with the case said Hranowskyj "hit the radar screen because of French."
DHR Director Kathleen Kilpatrick said in an email to BizSense on Thursday that it did not approve tax credits for another of Hranowskyj's Norfolk projects because of "questionable expenses submitted."
"Upon a thorough and ongoing investigation, we received what we believed to be fraudulent project documents, and so we refused certification of the project," Kilpatrick said.
The office then notified federal authorities.
"It is because of DHR's careful review of materials submitted to us for these projects that the FBI was able to pursue this matter," Kilpatrick said.
"DHR is committed to cooperating with law enforcement agencies to ensure against abuse of the program and to ensure that abusers are brought to law. It is tragic that with the decline of the economy a few bad actors crawled out of the woodwork. The good news is, we are catching them."
Since the French scam unraveled almost two years ago, DHR has implemented new policies and beefed up some existing policies in an attempt to better detect potential fraud and to spur investigations like that against Hranowskyj.
"In the last two or three years, we've certainly [applied more scrutiny to] what is submitted to us," Elizabeth Tune, who manages DHR's office of preservation incentives, said in a phone interview last month while the Hranowskyj investigation was pending.
Tune would not comment specifically on that case at the time.
For example, DHR now looks at projects on a cost-per-square-foot basis, a key measure that was out of whack in many of French's properties.
DHR also has CPAs take a closer look at projects before signing off on them and has a new system in partnerships with the state Department of General Services to conduct random inspections of historic renovation projects that are seeking tax credits.
"It's not for necessarily when something looks funny," Tune said. "But [the DGS] possesses special expertise outside of what we do."