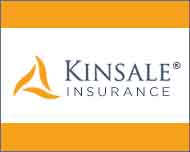 A Richmond-based specialty insurance startup has expanded again, adding 6,000 square feet to its 11,000-square-foot office in Henrico County.
Kinsale, a specialty insurance company (the niche of the insurance business that write policies for the riskier and sometimes more obscure insurance, such as medical malpractice), said it plans to hire about 10 more employees this year, bringing its total to about 70. It is looking to hire more underwriters and IT support workers.
"We had our first monthly profit in December 2011, and we are getting to the size now where we make money most months," founder Michael Kehoe said. (You can read a Q&A with Kehoe here). 
Kehoe also said the company is slowly moving closer to another capital raise, perhaps an IPO.
"Insurance companies need capital to support the business. The more premiums you write, the more capital you need. We think 2014 is our best guess for when we would consider an IPO. … I think it could be public, but it also could be private."
Kehoe said the company wrote $12 million in premiums in 2010, $36 million in 2011 and is on track for $72 million in 2012.
Kinsale, which has its office near Glenside Drive, is paying rent of about $16 per square foot per year for the additional space, Kehoe said.