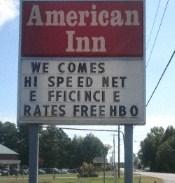 A Petersburg hotel has filed for bankruptcy protection to stave off an imminent foreclosure.
The American Inn on County Drive near Fort Lee filed Thursday for Chapter 11 bankruptcy, listing assets of $1 million to $10 million and liabilities in the same range.
The business, which is owned in part by Maninder and Monica Anand, lists the City of Petersburg and Dominion Virginia Power as its largest unsecured creditors. The hotel owes Petersburg $93,000 in real estate taxes, according to the filing.
BizSense was unable to reach the Anands.
Roy Terry, a bankruptcy lawyer with Sands Anderson who is representing the hotel, said the owners want the chance to reorganize and control a sale so they can better pay the debt. (The bankruptcy filing does not list the secured debt, but Terry said it is about $1.2 million).
"Business had fallen off — a lot of it [has been] related to the economy. A lot of hotels are in distress right now," Terry said, adding that the American Inn hopes the expansion ofFort Leewill improve its fortunes.

View Larger Map