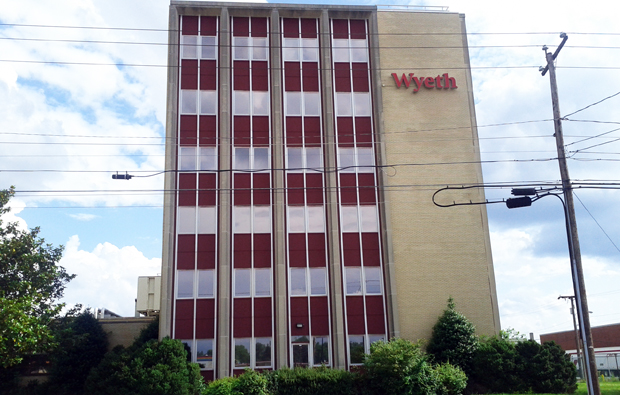 For the second time in less than a year, the former Wyeth plant adjacent to Interstate 95 has a new owner.
The Rebkee Company sold the building Tuesday for $1.9 million to Michael and Son, a heating and air conditioning company based in Alexandria with an office in Midlothian.
Rebkee bought the building in September for $1.65 million from American Home Products Corp. after Pfizer bought out that company.
Kevin McFadden, principal at Rebkee, said in an email that American Home Products purchased the property for a specific tenant, whom he did not identify, but that the deal fell through.
"We then listed the property for sale or lease and Michael and Son made us an offer which we accepted," McFadden wrote. "It means nothing but business as usual for Rebkee."
Jim Ashby with Cushman & Wakefield | Thalhimer represented Michael and Son. Mac Wilson and Franklin Bell, also of Thalhimer, represented Rebkee.
The 273,000-square-foot building, sitting on nine acres and highly visible from I-95, was formerly used to manufacture Robitussin, ChapStick and other pharmaceuticals.
Ashby said Michael and Son will occupy about 25 to 30 percent of the building and will look to lease the rest of the office space. The 21,000-square-foot Wyeth tower, Ashby said, might be developed into apartments.
Basim Mansour, president of Michael and Son, said he wanted a space with highway visibility.
"It's always a big deal to me. I love having a visible location," Mansour said. "I'm a big marketing guy, and any time you can get that many eyeballs for free that's a huge advantage."
Mansour said that he was going to put up a billboard on the property but that the Wyeth sign would stay on the building for the time being.
"I like having a piece of history," he said. "Right now it's not my plan to take the sign off. Maybe it's OCD or a fetish or whatever but I like having it up there. You can't erase the history. Right now people know it as the Wyeth building. Maybe some day they'll know it as the Michael and Son building, but it's Wyeth right now."
Mansour said he was considering opening a second call center in the plant, which could bring 50 jobs to the neighborhood.