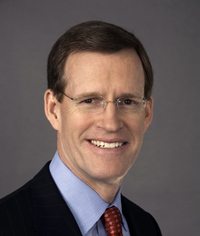 Resigning from a Fortune 500 company in turmoil comes with some perks.
Two weeks after Michael Fraizer's abrupt resignation May 1 as chief executive of Genworth Financial, the company announced the details of a separation agreement that will net him a generous parting gift.
Within the next month, the company will pay Fraizer a lump sum of $2.25 million, according to the agreement that was disclosed this week in a Securities and Exchange Commission filing.
Frazier will also be able to cash out 277,000 shares of stock at the end of 2012 that were previously restricted. At Genworth's current stock price, those shares are worth about $1.4 million.
He has an additional 833,000 shares that he has yet to cash out. They are exercisable until June 2013.
He also retains his rights to the company's supplemental executive retirement plan. The present value of Fraizer's accumulated benefits in that plan is $2.4 million, according to Genworth's proxy.
Fraizer's sudden resignation came two weeks after the West End-based insurance giant postponed a planned IPO of its Australian subsidiary. That postponement hurt the company's stock price, which has taken a beating in recent years.
Fraizer had been at the head of the company prior to its spinoff by General Electric in 2004. He oversaw massive losses at Genworth as a result of the housing bubble and the recession, which battered its mortgage insurance business.
Its bottom line had bounced back in recent quarters, although its stock price has yet to reach pre-recession highs.
Despite resigning as president and chief executive, Genworth said in the SEC filing that Fraizer's employment with the company runs through June 29.
The separation agreement calls for Fraizer to abide by a one-year non-compete provision, a two-year non-solicitation clause and a non-disclosure agreement.
Genworth called the payout "special early retirement benefits" that Fraizer is receiving in exchange for abiding by those provisions and "in recognition of Mr. Fraizer's many years of service with the company and its predecessor businesses."
Genworth has named CFO Martin Klein as interim chief executive. It will conduct a search for a permanent replacement.