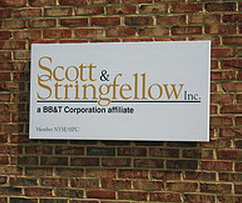 There's been a quiet changing of the guard at one of Richmond's oldest investment firms.
Walter Robertson, the onetime president and chief executive of Scott and Stringfellow, retired last month from his post as president of the firm's investment advisory operations.
Taking the reins from Robertson is Bryan Cram, who had been the firm's chief operating officer for the past year.
Scott and Stringfellow spokesperson Lynne Baldacci confirmed the leadership changes Wednesday. The company has not announced the change publicly.
Robertson, 58, is a Richmond native and graduate of Washington and Lee University. He took the helm of Scott & Stringfellow in 2002. He relinquished the roles of president and chief executive a few years ago to run the company's private client group, which includes its investment management business and earns about half the firm's revenue.
Robertson joined Scott and Stringfellow as chief operating officer in 2001 and was groomed to replace then-CEO John Sherman.
Robertson could not be reached for comment. The company would not comment on what Robertson's next move might be.
"Walter had a long career with us," said current President and CEO Rufus Yates. "I'm not sure exactly what his plans are."
Cram, 42, is a graduate of the University of Colorado. He joined Scott & Stringfellow in 1996 and worked his way through the ranks.
Scott and Stringfellow was founded in 1893. It makes its money in investment management and through its investment banking arm, BB&T Capital Markets. It has been a subsidiary of BB&T since 1999.
The company is headquartered downtown in Riverfront Plaza and has 1,000 employees spread across 35 offices in the Southeast.