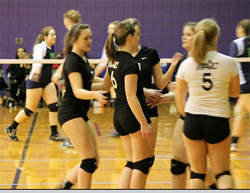 A local volleyball club says one of its directors was using the company's money as his personal piggy bank, and the club wants its money back.
Mid-Atlantic Volleyball Club last week sued Timothy Lee Holt, who managed the organization's finances for six months last year, alleging he stole at least $70,000.
The suit, filed in Chesterfield County Circuit Court, seeks about $400,000 through a monetary judgment and punitive damages. It claims fraud, conversion and breach of fiduciary duty.
The suit alleges Holt's "nefarious and illegal" conduct began after he took over management of the club's finances in January 2011 from co-director Stephen Parham. Holt's responsibilities in that role, according to the suit, included collecting payments from members and paying the club's bills.
Over the next six months, the suit alleges that Holt stole the club's money and made unauthorized purchases on Parham's personal credit card, all of which led to almost half the club's members leaving.
Holt allegedly wrote $22,000 worth of checks to himself out of the club's bank account and $40,000 worth of checks made out to his printing company, Max Print & Mail, which is also named as a defendant in the suit.
The club is represented in the civil suit by Jack Robb, an attorney at LeClairRyan.
"We suspect [Holt] was having financial problems and his business was failing," Robb said.
Steve Parham eventually "realized it was happening and went back in and cut off all the accounts. But the damage was already done," Robb said.
Holt wasn't done, though, according to the suit.
He allegedly wrote checks to "cash" then cashed and used them as his personal funds. He also allegedly obtained $5,600 in cashier's checks from the club's bank.
The suit claims Holt used the club's debit card to the tune of $6,500 for trips to restaurants and gas stations, to buy an E-ZPass and to pay for his daughter's SAT registration fees.
Checks that came in from parents of the club's players, which should have been deposited into the club's account, were deposited into Holt's personal bank account, the suit claims.
Holt also allegedly charged $28,000 on Parham's personal credit card.
Holt then tried to deposit a $15,000 check back into the club's bank account to cover the charges he put on the credit card in the club's name. That check bounced, according to the suit.
The saga also led to criminal charges.
Holt, 54, was arrested last year in Chesterfield County and charged with embezzlement, credit card fraud and writing bad checks related to his dealings at the volleyball club.
Those charges were withdrawn last week by the county's commonwealth attorney's office. Assistant Commonwealth Attorney Ken Chitty said the charges were withdrawn because "the matter was in need of further investigation."
The County does reserve the right to charge Holt again.
"We anticipate we may reinitiate charges at some point," Chitty said.
The nonprofit club was founded in Chesterfield in 2008 and runs leagues and travels teams for youth volleyball out of its facility near Iron Bridge Road and 288.
The club has an annual budget of about $400,000 and hundreds of members and is run by volunteers. Neither Parham nor Holt was paid for his work at the club.
Holt was defended in the criminal case by Randy Rowlett of Gordon, Dodson, Gordon and Rowlett.
Rowlett did not return a call seeking comment. It's unclear whether Rowlett is representing Holt in the civil suit.
BizSense was unable to reach Holt for comment. The number listed for his company went to a voicemail system that did not allow for messages to be left.
The club eventually sent a letter to members alerting them to what was going on.
"A lot of the members were upset, so that has impacted the club," Robb said. "And there are other things we'll never be able to recover, like the negative impact on the club's reputation."
But the club lives on, in part with financial support from some players' parents.
"It's definitely a viable club," Robb said.