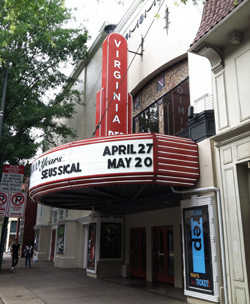 Two Richmond theaters are putting their business operations front and center.
The Barksdale Theatre and Theatre IV struck a deal last week to merge and become the Virginia Repertory Theatre, a move its leaders say creates a more powerful nonprofit with an almost $5 million budget and plans to raise $14 million.
"It began to make more and more sense to merge the two entities so that we could enjoy the efficiencies of completely merged operations," said Bruce Miller, artistic director for Virginia Repertory Theatre, known as Virginia Rep for short.
The marriage of the Barksdale Theatre and Theatre IV — founded in 1953 and 1975, respectively — was more than a decade in the making.
The relationship goes back to 2001, when the Barksdale, started in Hanover Tavern by six New York City actors, ran into financial trouble.
Miller and Phil Whiteway, who were running Theatre IV on West Broad Street near Jackson Ward, persuaded their board to take over management of the Barksdale.
But the two sides kept everything separate: books, budgets, boards and even their seasons.
The merger, which will be effective July 1, wasn't an easy sell to the boards of the two theaters.
"We had an 11-year honeymoon and finally we reached the point where everyone trusts and loves each other and agrees that neither mission is going to take a back seat," Miller said.
Theatre IV focuses more on children's and family plays. The Barksdale features more adult fare.
Theatre IV, with its historic facade on West Broad, is the larger of the two organizations, with a budget of $2.9 million, according to Miller.
The 604-seat theater has been undergoing a facelift. It now boasts the Virginia Rep and a recent $1.2 million restoration.
The Barksdale has a budget of about $2.1 million. Its operations include the original 156-seat Barksdale Theatre in the Hanover Tavern. It also leases a 207-seat theater space at Willow Lawn.
Bringing the two together under one brand will help the organization better compete for ticket revenue and fundraising dollars, Miller said.
"We are now a major theater," Miller said. "We are now absolutely peers of the Richmond Symphony, the Virginia Opera and Richmond Ballet."
Along with the new name, Virginia Rep will boast annual combined attendance of more than 550,000 and an annual budget of about $5 million, according to Miller.
Coming up with the new name and brand wasn't easy, said Whiteway, Virginia Rep's managing director.
The organization ran fundraising and branding studies to help with the decision.
"We needed to clarify our own image in the community and roll out under a new banner with a clear message under a new organization," said Whiteway. "Although the two existing names mean a lot to folks, it was difficult for people to wrap their brains around the impact both theaters have."
Miller and Whiteway must now work to get the Virginia Rep's business model more in line with its peers across the country.
That model, Miller said, says a major theater will receive approximately 60 percent of its total revenue from earned revenue (which includes tickets and other show-related income) and 40 percent from contributions.
Virginia Rep's budget consists of about 73 percent earned revenue, with the remainder coming from donations.
"Where we need to make improvements is to bring in another couple hundred thousand dollars in contributed revenue," Miller said. "We hope recognition of the merger will enable us to do that."
That will be particularly important when the organization sets out on a $14 million campaign that will raise money to finish the renovation of the Theatre IV property, known as the November Theatre, and its surrounding buildings.
"It will complete our efforts to turn November Theatre into our institutional home," Miller said.
That campaign has been on the back burner for a while, as another local theater has been consuming much of the Richmond fundraising spotlight.
"We've been very respectful of the fact that CenterStage was having a major downtown campaign for their facilities," Miller said. "We're waiting for exactly the right time to launch ours."