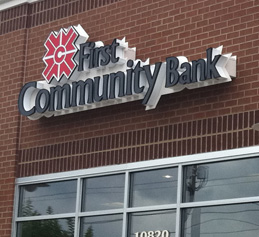 The acquisition of Peoples Bank of Virginia is complete.
Bluefield, Va.-based First Community Bank sealed the deal late last week to acquire the 10-year-old Richmond bank for $40.6 million.
The Peoples Bank of Virginia name will disappear, and its four Richmond branches will be rebranded with the First Community flag.
"It has a nice ring, doesn't it," First Community CEO John Mendez said.
The deal, first announced in early March, will give Peoples Bank shareholders $6.08 in cash and 1.07 shares of First Community common stock per share of Peoples Bank stock. The money and shares are in the process of being disbursed, Mendez said.
The purchase adds to First Community's local presence, giving it nine branches in the Richmond market. Prior to the deal, the bank controlled about $77.29 million in local deposits, according to the most recent figures from the FDIC. Peoples Bank adds $236 million in deposits. First Community and its parent company, First Community Bancshares, have about $2.2 billion in assets.
The closing marks the first local bank deal of 2012 and the first since last summer, when Xenith Bank went on a buying spree for the local assets of Paragon Commercial Bank and the former Virginia Business Bank, which was shut down by regulators.
Peoples Bank's top executives will shift roles.
Former Peoples Bank CEO Jim Atkinson and President Quentin Corbett each signed consulting agreements with First Community to provide "support on employee and customer retention" for 36 months following the closing date. Such agreements are common for outgoing bank executives.
"They won't have as rigid a schedule as they have had in years past," Mendez said.
CFO Vera Primm will stay on in her position for three months after the closing to assist in the transition.
Atkinson, Corbett and Primm signed severance agreements that pay out $783,000, $738,000 and $423,000 respectively.
Eddie McCall, previously a senior vice president with Peoples, is now First Community's Richmond city executive.
Peoples board member Bill Pruitt also joined the First Community board.
Many of Peoples Bank's 35 employees are staying on, Mendez said, minus a few job cuts in the back office.
"We've been very pleased to be able to fill some key positions on our side of the company from Peoples Bank employees," he said.
The acquisition brings together two banks that remained relatively stable throughout the recession.
Peoples made a profit of $2.09 million in 2011, in part by keeping bad loans in check. It ended the year with $5.1 million in past due and non-accrual loans out of about $185 million in total loans, according to reports filed with the FDIC.
First Community turned a $19 million profit in 2011 and quickly returned to profitability after a big loss back in 2009. It had $31 million in non-performing assets at the end of 2011, according to its year-end report filed with the SEC.
Peoples Bank focuses on small-business customers and commercial lending. Mendez said it would retain that focus after the deal closes and would look to grow its presence as a retail consumer bank now that it has more branches.
The bank will roll out a marketing campaign to let people know of its increased presence and new products, Mendez said.
"It'll give us a greater efficiency in this market," Mendez said. "You'll see a greater presence from our folks. Marketing campaigns will be ramped up a bit."
First Community came to Richmond in 2003 by acquiring the former CommonWealth Bank. It has 55 branches in Virginia, West Virginia, North Carolina and Tennessee, including five in Richmond.
The Peoples deal is First Community's fifth acquisition since 2003. Most recently it bought Tri-Stone Community Bank in Winston-Salem, N.C., in 2009 and Mooresville Savings Bank in Mooresville, N.C., in 2008.
And it might not be done with its wheeling and dealing locally.
First Community will eventually look to expand into insurance and wealth management in the Richmond market, Mendez said, likely through acquisition.
"We certainly can hire agents and producers, but another way to do that — and sometimes a more efficient and faster way — is through possible agency acquisitions," he said.