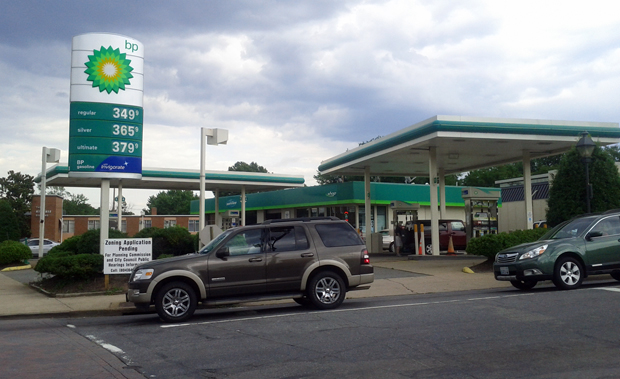 The corner of Libbie and Grove avenues could be in for a big transformation.
Developer Scott Boyers is planning a four-story, 22-unit apartment building where a BP station now stands.
The development is in its infancy. Boyers has not filed the special-use permit application that will be required for the project, which can be a lengthy process, but he did submit initial plans for the building with the city last week.
Boyers, a broker with CBRE, would not comment on his project for this story, saying it was too early to talk about it. The owners of the land, Woodfin Heating Inc., could not be reached for comment by press time.
But according to plans prepared by the architecture firm Archetype Designs, LLC, the building would be about 109,000 square feet and include about 10,000 square feet of retail on the ground floor.
The apartments in the plans include two one-bedroom units, six two-bedroom units and 14 three-bedroom units.
The plans also call for 78 parking spots, and that's a big deal to local business owners, who say that parking is a challenge in the area.
Kyle Measell, owner of Phil's Continental Lounge, said he would be excited to see the new development.
"Of course I'd be sad to see the BP go away. I've known those guys for 10 years. But it would be good to get more people in the area who can come in and eat at my restaurant," Measell said. "But I think I'm most excited about the parking. It's brutal around here."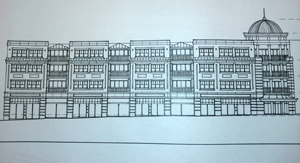 Laurie Blakey, owner of Pearl's Cupcakes on Grove Avenue, agreed that the extra residents would be good for business.
"My understanding is that it has self-contained parking," she said of the potential development. "As long as it has parking, it seems like a positive thing."
But support for the project isn't universal. The Libbie & Grove Merchants Association opposes the development.
Patrick Heaney, co-owner of Mango Salon, situated directly behind the planned development, said the association opposed the project because it doesn't meet the current building standards for the area.
"The Libbie & Grove Merchant's Association has unanimously voted to withhold our support for any project that doesn't meet the current zoning ordinances in the area," said Heaney, who is vice president of the association. "It does not meet the current zoning ordinances, therefore we oppose it."
Heaney said he has spent many hours working with the city to update the master plan for the Libbie/Grove/Patterson avenues retail section of the city, and that special-use permits put a wrench in the standards for the area.
"It's not that I have anything against this project specifically," he said. "I think we should have an open, public discussion on the future of the area, and it should not driven by any single special-use permit. If the zoning ordinance is going to be changed, it shouldn't be for any one project."