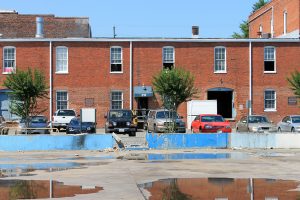 A Richmond cider startup hopes to open this fall and join the blossoming "drink local" movement.
Entrepreneur Courtney Mailey will open Blue Bee Cider in Manchester, joining a rapidly expanding fermented cider market. She said Blue Bee would be Richmond's first cidery — or at least the first in a long while.
"I'll be the first since colonial days. I believe William Byrd had a pretty substantial cider operation," Mailey said.
Blue Bee will brew apple juice and fermented cider in a 4,800-square-foot space across from the Legend Brewery on West Sixth Street. The cider house will also feature a tasting room that Mailey said would be "part retail and part hangout."
Blue Bee's apples will come from Silver Creek Orchards in Nelson County, where Mailey leases an orchard. The cider house is named for the blue-colored bees that pollinate apple blossoms in the early spring.
Mailey has wanted to start her own business for about 10 years. She worked as a community development manager at Federal Reserve in Richmond before taking an apprenticeship at Albemarle CiderWorks in 2010. It was there that the idea for Blue Bee took wing.
Blue Bee will roll out its apple juice this fall, Mailey said. Fermented cider will be available by spring. Juice will make up only a small portion of the business, Mailey said, but it will be ready for sale before her cider is finished.
"It will give me some cash flow up front, which is very important," Mailey said.
Blue Bee will start out offering two varieties of cider: a dry cider for craft beer fans and a fruitier blend that will drink more like a wine. A third cider, a higher-alcohol variety blended with aged brandy, will take about a year to produce.
Blue Bee will sell its apple juice for $6 per half gallon and $11 per gallon. Traditional cider will cost $10 for 500-mL bottles and $16 for 750 mL, with 375-mL bottles of brandy-fortified cider topping out at $30.
Cider is a fast-growing segment of the alcoholic beverage market. Industry giant MillerCoors bought Minneapolis-based Crispin Cider Co. in February, and Anheuser-Busch launched Michelob Ultra Light Cider last month.
Virginia Winery Distribution Company administrator Penny Tuthill said five of the seven VWDC-affiliated cideries joined in the past year alone.
But Mailey said there is plenty of room in the market for her business. And she is working alongside other Virginia cider-makers to spread the word about fermented cider.
"We're collaborators more than competitors," Mailey said.
Because Virginia law classifies cider as a wine product, Mailey will also be able to personally distribute her product through the Virginia Winery Distribution Company. Virginia law does not allow beer brewers to self-distribute.
Customers can order wine directly from Blue Bee or online at the VWDC website. The VWDC process all payments and returns profits to each individual wineries.
Mailey also plans to sell Blue Bee cider in specialty stores, restaurants and at her cidery's tasting room beginning next spring.