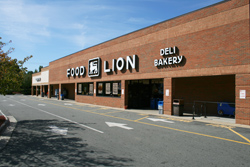 Rebkee really likes Food Lions.
So much so that it now owns two properties within a mile and half of each other that have the grocery store as the main tenant.
The Midlothian-based developer on Monday spent $2.7 million to buy a freestanding Food Lion property in New Kent County, according Rebkee principal Rob Hargett.
Rebkee financed a portion of the purchase with a loan from Franklin Federal Savings Bank.
Monday's purchase is a 44,000-square-foot building that until recently was a Bloom store, Food Lion's high-end concept that is being phased out. Food Lion's owner, Belgian conglomerate Delhaize, changed the store back to a regular Food Lion less than a year ago.
With its latest purchase, Rebkee owns about 15 shopping center properties with Food Lions as tenants. Developing Food Lion stores is how the company cut its teeth, Hargett said.
"That's we started with 20 years ago," he said.
One of the busiest developers in town over the past year, Rebkee has bought up some of Richmond's biggest properties, including the old Interbake cookie factory at Broad and Boulevard and the last Wyeth plant just off Interstate 95. (It struck a deal to sell the Wyeth property last month.)
The newly purchased property sits at 7300 Marketplace Drive in Route 60 in Quinton. It's just across Interstate 64 and barely a mile away from Rebkee's other Food Lion property at 2581 New Kent Hwy.
The store was originally a Winn-Dixie, Hargett said. Rebkee bought the property from an owner in Pennsylvania. It was his only real estate in Richmond, and he didn't look far when he decided to unload it.
"He said 'I know the guys who own the Food Lion up the street,' so he called us," Hargett said.
So why on earth buy two of the same stores less than two miles from each other?
"The sales are good at both," Hargett said. "When Winn-Dixie was there and then went bankrupt, Food Lion bought it because they knew the sales were good."