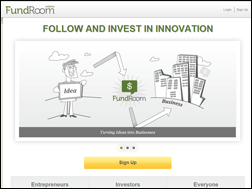 After an annoying battle with a cyber-squatter, a local startup has rebranded itself and raised a fresh round of capital.
WealthForge, created in late 2010 as an online marketplace to connect entrepreneurs with accredited investors, has launched a new public persona: FundRoom.
Ready for its debut but never able to get its hands on the web domain WealthForge.com, the fledgling company founded by two University of Richmond graduates decided it needed a new name.
"We felt the need to put a better presence on the web," said CEO and co-founder Matt Dellorso. "There was a squatter on the WealthForge.com domain. He was trying to negotiate a price that wasn't acceptable."
So they created a new entity — FundRoom — that will run its investment deals through WealthForge LLC, which is a registered broker/dealer.
"WealthForge still exists as our registered broker/dealer — our transaction engine," said Gregory Gulling, FundRoom's head of marketing. "FundRoom is really our face, our front-end website."
The new name didn't come easy.
"After months of serious, serious Godaddy.com domain searching, we came up with FundRoom," Gulling said.
The company also just closed on a $321,000 capital raise that it will use for continued web development. The money came from a handful of investors that includes its new CFO David Owings, who previously was the controller of former Richmond coal giant Massey Energy.
FundRoom bills itself as a Match.com for entrepreneurs and accredited investors. It's crowd funding that, for now, is only open to accredited investors. But a newly signed federal law will soon allow investors of all shapes and sizes to get in on its deals.
The JOBS Act, which is on track to go into effect in 2013, allows anyone to invest a minimum of $200,000 in a private company. Historically, such investments were only open to accredited investors.
With its new brand intact, the company is out of beta testing mode and ready to start working deals.
"We're full on," Gulling said. "This is our launch. We are absolutely fully functional and ready to tackle the world."
In its first few weeks, though, FundRoom will focus on Richmond.
"We decided we wanted to launch exclusively in Richmond for anywhere from three to four weeks before we even approach a national market," Gulling said.
FundRoom is shooting for 150 Richmond businesses and 50 local accredited investors to be registered through its site. From that, it hopes to close three transactions.
The site has 1,000 members registered who are a mix of entrepreneurs and investors. It has already helped broker two deals valued at about $3.5 million, Dellorso said.
Dellorso said the company hopes to work with other crowd funding sites that don't have an in-house broker/dealer.
"There are 50 sites who want to try to do equity crowd funding, and only two or three in the country that are licensed [broker/dealers], and we're one of them," Dellorso said.
Headquartered on Franklin Farms Drive, near Three Chopt Road and Forest Avenue, the company has eight full-time employees and 11 contract employees.