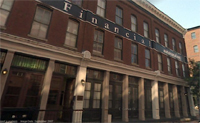 A Richmond entrepreneur is returning to his roots, leasing 10,000 square feet in a Shockoe Slip building he left four years ago after selling his previous company.
Travis Weisleder, who founded Interactive Financial Marketing Group and ran it at 114 Virginia St., is launching a new company in the same location.
Digital Marketing Networks will be a lead generator that matches consumers with auto and mortgage lenders and auto dealerships. The company plans on doing a lot of the work through cloud computing, he said, which cuts down on startup costs.
Weisleder sold Interactive Financial Marketing in 2007 and left the company in 2008. Interactive is now located near Chesterfield Town Center at Midlothian Turnpike and Robious Road.
Weisleder said he is moving into the new office now and will be up and running in six to eight weeks. The company does not have a final headcount, and the structure is still being worked out.
Digital Marketing Networks will not take up all the space in the new building. Once the company is up and running, Weisleder plans to use the extra space as a business incubator, he said.
"I use incubation loosely, but we're still a few months out on that," he said. "There are lots of people trying to do the incubator concept, but they all seem to be nonprofits. Ours will be a for-profit. I think it's easier to raise funds that way."
Weisleder leased the space from Mark Merhige of Shockoe Properties, who is also listed as one of the partners in the building's ownership group, Hill Building Limited Partnership.
Merhige said he thought Weisleder was a great fit to fill the space again, calling him "a proven business leader."