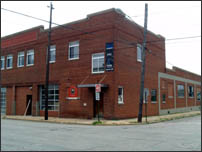 Two of Justin French's final projects will be sold to the highest bidder at an auction in July.
Norfolk-based Bank of Hampton Roads is foreclosing on two buildings in Scott's Addition and hoping to recover some of the $15 million it lent French to rehab 3031 Norfolk St. and 3122 Norfolk St. The bank claims that French borrowed money on the projects and then lied about the progress of construction, using the funds elsewhere.
The bank tried for more than a year to avoid foreclosing on the former warehouses but finally gave in and hired locally based Motley's Auction and Realty Group to handle the auction.
Fortis Trustees, a Motley's affiliate, is handling the foreclosure auction, which is scheduled for July 10.
The former warehouse at 3122 Norfolk St. (also known as 1700 Summit Ave.) is 56,000 square feet on 1.29 acres. French planned 67 apartment units for the building. It was most recently assessed by the city at $2.58 million.
Kitty-corner across the street is 3031 Norfolk St., a 67,900-square-foot building that sits on 1.38 acres. French had planned 85 apartment units. It was assessed at $2.7 million.
Both properties still hold the possibility for a developer to receive tax credits, according to Motley's President Mark Motley.
He said 3031 Norfolk St. is about 60 percent completed.
"They've got walls, all electrical, plumbing. I don't want to say it's in move-in condition, but there's a lot more there than what you would suspect," Motley said.
The other building was left mostly undeveloped, which has been a point of contention among the bank, French and contractors who worked on the project.
French's dealings on these properties led to at least three lawsuits in Richmond Circuit Court.
In 2011, Bank of Hampton Roads sued local architect Todd Dykshorn for allegedly misrepresenting the projects' progress.
Then Essex Bank and Lynchburg-based Select Bank sued Bank of Hampton Roads in December 2010 for $11 million, claiming that the bank failed in its duties as lead lender by allowing the alleged fraud to take place. That suit is set for trial in September.
And last week, Bank of Hampton Roads sued local contractor and developer David Gammino, whose company City & Guilds did the construction work on the projects, alleging that he defrauded the bank by signing off on illegitimate cash draws. Gammino announced days later that he was dropping out of the race for Richmond City Council because of the suit.
This is the second high-profile auction Motley's has landed in recent weeks. It auctioned the fairgrounds and assets of the Virginia State Fair last month to a Tennessee fair operator.
The French connection might help draw some attention, Motley said. But he's not banking on it.
"The hoopla and all that is not our interest," Motley said. "We don't mind the extra exposure, but I think the property stands on its own."
Motley's has also previously handled the sale of some of French's residential rental properties in Church Hill.