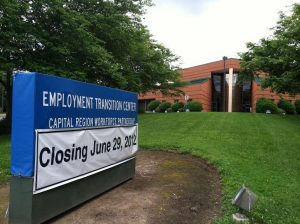 A center for displaced workers in Innsbrook is getting the pink slip.
The Employment Transition Center will shut down June 29 after a three-year run in the former Innsbrook Library building on Innslake Drive.
Launched in March 2009, the center was run by the Resource Workforce Investment Board to help workers who were laid off during massive cuts from some of Richmond's biggest companies. It helped them build connections, network and become comfortable with Internet resources such as LinkedIn.
"It was never meant as a permanent center," said Leontine Jameson, the center's director. "It was very successful. But it has sort of come to an end. We were really supposed to only be here for a year starting in 2009."
A new facility at 121 Cedar Fork Road in the East End will offer similar services and will cater to more than just workers displaced in mass layoffs. The Workforce Investment Board is also relocating some of its operations downtown, but it hasn't selected a site.
The Innsbrook location is owned by Henrico County, which let the center use the space for free the past three years.
"I'm sure it's going back on the market now," Jameson said.
The ETC was created in 2009 with a $500,000 grant. That money came down from federal programs and covered the center's first six or seven months of operations. Once it was allowed to continue running, it kept an annual budget of $500,000, Jameson said. Last year, its budget was about $350,000.
"I think we were very efficient and people got some pretty good jobs," she said.
About 600 people who came through the center landed jobs, Jameson said.
The flow has changed since 2009, when the recession hit and some mainstay Richmond companies toppled.
"We had Qimonda, Circuit City, LandAmerica," Jameson said. "Those were the big first wave of people."
In part because of the connections they made at the center, many of those people have landed jobs at places like Capital One, Wells Fargo, the Federal Reserve Bank of Richmond, Genworth and smaller companies.
"A lot of people entered back into employment. There are still people coming through the doors and people being laid off. But we do see employment coming back," Jameson said.
Those that are still struggling generally work in fields such as human resources, sales management and business analysis at big corporations, Jameson said.
The center was used by members of groups like Career Prospectors, a networking group of job hunters who meet to share leads.
"It's been a wonderful asset to the community and job seekers," said Charlie Wood, who runs Career Prospectors. "I'm pleased it has been there as long as it has been. It's going to be missed."
Wood said one thing that has changed from 2009 is the rate at which people are finding new jobs.
"Three years ago, we might go three months without someone finding a job," Wood said. "There are still a tremendous number of talented people that don't have jobs. But it's much better than it was three years ago, two years ago and even a year ago."