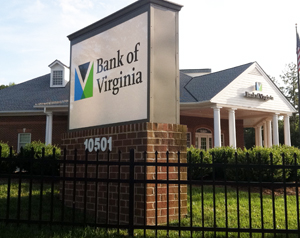 Fresh off its first profitable quarter in almost three years, a local bank is looking to raise capital and potentially go on a buying spree.
Bank of Virginia is taking preliminary steps to raise between $2 million and $10 million, according to its latest proxy, a move that would help it get closer to its goal of expanding through acquisition.
The Midlothian-based bank is asking its shareholders to give it the green light to consider a non-public offering sometime this year. Shareholders will vote on the issue at the bank's annual meeting June 28.
"We're positioning to do it," said Bank of Virginia CEO Jack Zoeller, whose comments were limited by SEC rules.
"We've said from the beginning that we intended to raise capital and pursue strategic growth. This is part of what we need to do to help make that happen," Zoeller said.
Although it's still early in the process, the bank's proxy gives a glimpse at what it is considering.
The most likely scenario would Cordia Bancorp, which bought a majority stake of the bank in 2010, purchasing a greater share of the bank.
"It is anticipated that if we conduct a non-public stock offering, some or all of the shares we sell will be to Cordia Bancorp Inc., which would thereby increase its ownership percentage above its current 59.8 percent of our common stock," the bank states in its proxy.
Cordia was formed in 2009 by Zoeller and other bankers to invest in troubled banks. It closed on its acquisition of a controlling interest in Bank of Virginia in late 2010. Zoeller immediately became chief executive and brought in a new management team, new directors and new loan officers.
Bank of Virginia has some big steps to work through in the meantime.
Its strategy includes remaining in the black, something that hasn't been easy in the past few years. Its $345,000 profit in the first three months of 2012 was its first profitable quarter since 2009 and its best first quarter in five years. It hasn't had a profitable year since 2007. The bank was founded in 2002.
It also needs to get out from under a written agreement that it entered into with regulators in January 2010. The agreement was designed to help it get its bad loans under control and make capital a priority.
And it has made some progress. The Cordia deal brought in almost $10 million in fresh capital. The bank still had about $7 million in past-due and non-accrual loans at quarter's end, although that number is down from $11 million a year ago.
"We feel comfortable having our arms around the loan portfolio and the credit issues," Zoeller said. "Now we're primarily focused on the growth of loans and growth of deposits."
The bank's proxy shows it is looking beyond just the usual slow and steady growth of loans and deposits.
"The bank's long-term strategy is to grow not only organically, but also through mergers and acquisitions," it states in the proxy.
Because its name affords it the ability to fit in markets all over the state, Zoeller has said from the beginning that he and Cordia's plan was to use the Bank of Virginia brand for expansion beyond the Richmond market.
It also is in the midst of a $40 million business lending campaign. Zoeller wouldn't say exactly how much the bank has loaned as part of the campaign.
"We're nearing the halfway point in the year, and our pipeline is full," he said.
Although raising capital is no easy task for community banks these days, a few local banks have found success recently.
Franklin Federal Savings Bank raised $138 million in April 2011 by creating a public holding company. Xenith Bank raised $19 million last year in a public offering. And most recently, Glen Allen-based First Capital Bank raised $17.8 million through an offering to its existing shareholders and an investor in Northern Virginia.