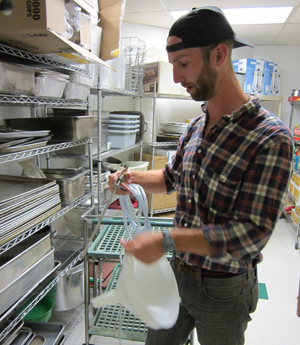 A Richmond entrepreneur has moved from politics to soda pop.
Casey Werderman, who was Virginia Senate Majority Leader Tommy Norment's chief of staff a year ago, launched Humdinger Craft Soda last month. He hopes that the playful name and bright packaging will bring a younger crowd to the ginger ale market.
Werderman started brewing ginger ale in his basement on 26th Street about two years ago. At the time, he said, the selection of ginger ales didn't suit him.
"I just wanted more flavor in a bourbon and ginger," Werderman said.
Werderman had the idea for Humdinger Craft Soda about six months ago. He attributes the Humdinger name to a conversation he had with a friend when the idea was taking root.
"I said, 'When I'm looking back, I want to do something that I'll be able to say 'man, that was a humdinger,'" Werderman said.
Werderman brews Humdinger in the basement of St. Patrick's Church on 25th Street. He keeps his soda simple, using only four ingredients: water, ginger, pure cane sugar and lime.
Then Werderman takes each batch to his home to carbonate it and brings it back to St. Patrick's for bottling. It takes about two days to make a five-gallon batch of ginger ale, Werderman said, and the soda's popularity is fast outpacing his production capability.
"The demand has been more than I have ever expected," he said. "It's definitely at the point where I need to figure out what the next step is."
But growing a small soft-drink business can be a slow and difficult process. Bill Hargis, who launched Richmond-based carbonated fruit juice company Fruit-66 five years ago, has done it twice.
"There are no home runs in this business," Hargis said.
Hargis said distribution could be the biggest hurdle to growing the business. Most distributors, he said, have geographic distribution agreements that will only allow them to carry one brand of ginger ale.
Werderman said bottling the soda will be difficult as well, because commercial bottling companies will be reluctant to take on a business as small as Humdinger.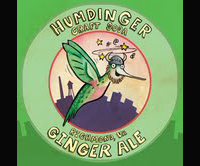 For now, Werderman is bottling his product by hand and personally delivering it. He has about $5,000 invested in Humdinger so far. Now a full-time public affairs manager at Capital Results, Werderman has financed the business with personal savings.
Werderman hopes to add other sodas to the Humdinger brand in the future. He's working on a parsnip-and-pear-flavored soda now.
Humdinger Ginger Ale is currently available at the Roosevelt, Urban Farmhouse Market and Cafe in Shockoe Slip and Black Hand Coffee Shop in the Museum District. It sells for $2.50 to $3.00 per bottle.
Read more about Richmond entrepreneurs in the beverage industries:
Hardywood Brewery gains 60,000 pounds
Center of the Universe Brewing Company 
Midnight is the new happy hour