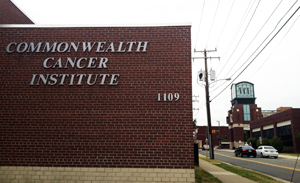 The former home of a bankrupt local cancer treatment center located in the heart of VCU is going up for grabs.
The half-acre property at 1109 W. Marshall St. is headed to foreclosure more than two years after its owner, the Commonwealth Cancer Institute, went bankrupt.
Sitting in the shadow of the Siegel Center and multi-story VCU dorm complex at the corner of Marshall and Harrison streets, the property seems ripe for the picking. It will be auctioned off June 28 on the steps of the Richmond Courthouse.
CCI originally filed Chapter 11 in the midst of the recession in late 2009. The case was eventually converted to a Chapter 7 for the business to liquidate its assets.
Its real estate is held in a separate entity, Harrison Broad LLC. It also was put into bankruptcy.
Among CCI's millions in debt is $1.77 million owed to the lender on the property, Banco Popular. The bank originally loaned CCI $1.88 million.
The bank fought in federal bankruptcy court for the right to foreclose on the property. Its wish was granted when Harrison Broad LLC's bankruptcy case was dismissed. That gave the bank the green light to foreclose and put it up for auction.
The property was most recently assessed by the city at $1.08 million. That compares to its neighbors, including VCU's 1.6 acre Ackell Residence Center (assessed at $22 million) and the Siegel Center, which sits on 6 acres across the street (assessed at $61.5 million).
Attorneys Bryant McGann and Jerrell Williams of the law firm Vandeventer Black are working as substitute trustees. Both declined to comment.
Tom Ebel, an attorney with Sands Anderson, is representing Banco Popular and declined to comment.