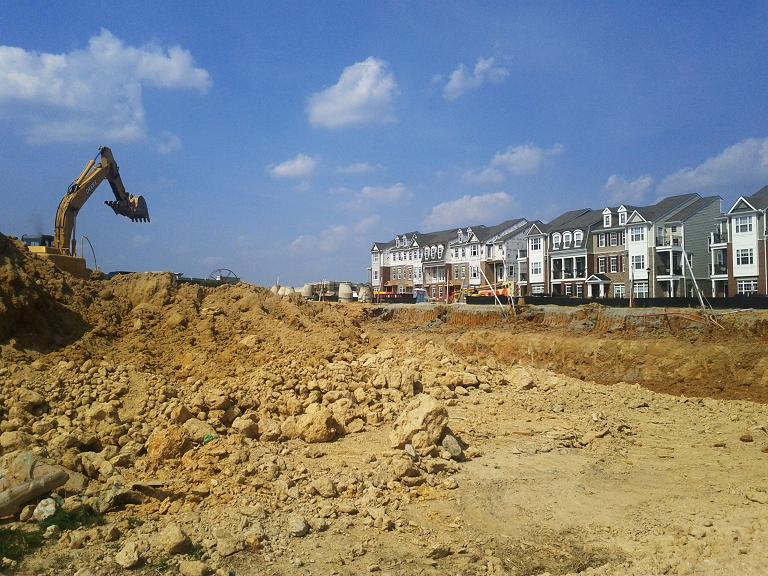 Two years after a local private equity fund bought into the then-struggling West Broad Village, the final phase of residential construction is underway at the 115-acre project.
Eagle Construction has broken ground on what will be 100 homes at the mixed-use development, which sits along Broad Street in Western Henrico. The $15 million buildout will take at least two years and will complete the residential component of the development, according to Bud Ohly, president of Eagle Construction.
About 30 percent of the homes, which will be townhouses, will be speculative, Ohly said.
"For example, we might build six units and two of them might be on spec," Ohly said. "Usually we've sold the last two before they're finished. Right now I think we have three homes in inventory."
Eagle's new homes will be three-and-a-half stories and will be priced from $275,000 to $350,000, he said. They skirt the west section of the development, bordering John Rolfe Parkway and behind Trader Joe's.
Ryan Homes, the only other residential builder in West Broad Village, does not build on speculation. It has about 120 unbuilt lots at the project.
The residential portion of the development is controlled by Markel|Eagle Partners, a private equity fund run by Eagle founder Bryan Kornblau. The fund purchased control of the townhouse component of West Broad Village from Florida-based developer Unicorp in 2009. It made its $9 million investment when the development was on the edge of default. You can read more about that here.
Ohly and Eagle Construction have been involved in the West Broad Village since almost 2005, he said. And since Markel|Eagle bought in, things have picked up dramatically.
"When we made our investment, there were 18 homes either finished or under construction, and the clubhouse was unfinished and boarded up," he said. "Today there are 276 townhomes at West Broad Village, and we've finished the clubhouse."
Unicorp president Charles Whittall, who first envisioned the development, said he was excited to see the progress Eagle had made.
"We always anticipated this outcome," Whittall said. "Obviously, we always thought it was very well located, and it's turned out to be exactly that. It's on the lines of our original outcome."
Unicorp, which still controls the commercial and multifamily components of West Broad Village, said that there are six vacant commercial parcels left for development and that three of the six are spoken for.
"For two of the parcels, we are in negotiations with major restaurant chains, and the other is a Diamonds Direct [jewelry dealer] under construction," he said.
Also under construction is the high-end, 62,000-square-foot fitness center ACAC.
The development "has turned out beautifully. It's like a mini-city. And I think it's going to be a long time before any more developments like this one goes up in Richmond — certainly not until the economy improves," Whittall said. "But it proves that mixed-use developments work."