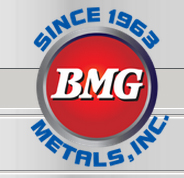 Richmond-based BMG Metals is being sold to French industrial and metal supply firm Descours and Cabaud.
The sale will not bring any changes to BMG's services or management structure, said BMG President Tom Gay, and the company will continue to operate under the BMG name.
BMG had been approached about selling the business several times in the past 10 years, Gay said, but this was the first deal that suited the company.
"The timing was right," he said. "If, five or six years from now, we decided we wanted or needed to bug out and wave the white flag, there might not be a market."
BMG is a distributor of steel, aluminum and stainless steel and has seven locations throughout Virginia, Maryland and North Carolina.
The company is co-owned by brothers Bery, Bill and Tom Gay. Their father, Kingsbery Gay, co-founded BMG as Beauchamp, Martin, Gay and Co. in 1963.
Tom Gay serves as BMG's president. Bery Gay is the chief operations officer, and Bill is the company's secretary/treasurer. All three brothers will retain their titles following the sale.
Bery Gay said the sale would enable BMG to expand into new markets while keeping the BMG name and management team in place.
Tom Gay said BMG has been looking into expanding throughout the United States, but he would not name potential locations.
The sale will also give the brothers an "exit strategy," Bery Gay said, allowing them to leave the company on their own time and terms.
Tom Gay said neither he nor Bery have immediate plans to leave BMG. Bill, however, intends to retire at the end of the year, Tom Gay said.
BMG has about 240 employees, including 100 at two Henrico County facilities. The sale will not bring any hires or layoffs, Tom Gay said.
Descours and Cabaud, founded in 1782, is the largest metals supply company in France. With more than 550 outlets, the company is a major distributor throughout Europe. D&C also owns Raleigh-based Dillon Supply Company.
Tom Gay said BMG's family-owned business model attracted D&C, also a privately owned company.
"They wanted to increase their presence in the U.S. and saw us as a family-owned metal distribution company," he said. "And that's what they do in France, so it made sense for them."
Tom Gay said that the deal has been in the works for the past couple of months and that he expects the sale to be finalized by the end of June. Financial terms of the sale were not released.