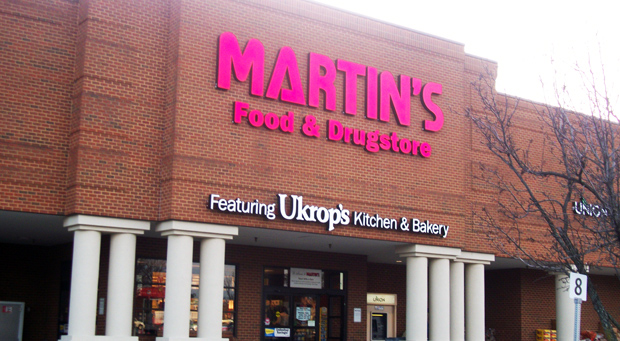 Two and a half years after moving into the Richmond market, grocery chain Martin's is planning its first new store here.
Martin's regional vice president Jim Scanlon confirmed the company was in discussions for the store's location.
"I can confirm that we have an interest in a site in Chesterfield and have signed a letter of intent with a developer," Scanlon said. "I am unable to share further details at this time."
[A letter of intent is real estate speak for a nonbinding agreement that says that the parties agree in principal to the terms of a deal.]
Two commercial real estate brokers with knowledge of Martin's plans, who declined to speak on the record because of their direct dealings with the company, said a plot at Charter Colony and Midlothian Turnpike owned by South Carolina retail developer Edens is the likely site.
Edens, formerly Edens & Avant, purchased the 33-acre plot in 2005 from Reynolds Real Estate Ventures for $10 million, according to Chesterfield County records. At the time, the developer announced it intended to build a shopping center anchored by a grocery store.
A spokesperson for Edens said the company would not comment on plans for that site until they are final.
Ahold USA, the parent company of Martin's, arrived on the local grocery scene in 2009 when it bought Ukrop's Super Markets and 22 local stores for about $140 million. Martin's lost market share in the first two years, seeing its chunk of the local grocery business slip from 17 percent at the time of sale to about 15 percent last June.
But Scanlon told BizSense in February that the end-of-2011 numbers were good and improving each month, and Food World's annual market-share report shows this month that Martin's market share is up to almost 16 percent.
Martin's next closest grocery store competitor, Kroger, also saw a slight rise in market share but still hangs around 12 percent. Kroger is also expanding in Richmond. It renovated its stores at Willow Lawn and Carytown and is building a store at the former Cloverleaf Mall that will also sell home goods.
Food Lion is still the king of Richmond's grocery jungle but saw its market share decline from 18 to 17.2 percent. Food Lion announced this year that it was closing two stores in Henrico.
Martin's has been adding gas centers in a bid to fuel customer loyalty, with both its Harbour Pointe and West Park stores installing gas stations this year.