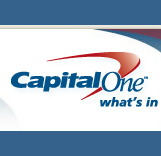 Chesterfield is playing with a hot hand.
On the heels of big announcements for new facilities for Sabra and Amazon, Gov. Bob McDonnell on Wednesday announced Capital One's plans for a $150 million data center in Chesterfield County. The center will create 50 jobs, according to the governor's release.
The commonwealth beat out Texas for the center. To land the deal, Virginia committed $500,000 from the Governors Opportunity Fund and will waive the sales tax on computer equipment and contribute to recruiting and training new employees.
"Capital One is an outstanding company and an outstanding corporate citizen," Chesterfield County Administrator Jay Stegmaier said in the release. "The opportunities that they provide enhance the economy as well as our entire regional community."
The data center will be in the Meadowville Technology Park near the intersection of Interstate 295 and Route 10, which also houses the Amazon fulfillment center that's under construction. Capital One Spokeswoman Julie Rakes said the company expects to break ground by the end of the year but would not say who the contractor might be or how big the facility would be.
Capital One, already one of the largest employers in Richmond with more than 10,000 workers, has been expanding in recent months. The company is adding 300,000 square feet of office space at their West Creek facility, which is scheduled to be complete next year.
The company has also gobbled up empty office space across the region, from Innsbrook to the Williams Mullen building downtown.
Will Davis, Chesterfield's economic development director, said landing the data center was a big step for the nascent technology park.
"This positions Meadowville very well," he said. "Data centers have been one of our targets for the park, and this is a great addition to it."
It's been a busy year for Chesterfield's economic development team. With the fiscal year coming to a close, the county has announced $313 million in new investments and about 1,200 jobs between Amazon, Sabra and now Capital One.
"We've been extremely busy, and we have other projects we're working, so there is more good news to come," Davis said.