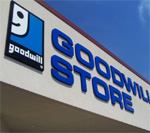 A local nonprofit is going big box.
Richmond-based Goodwill Industries of Central Virginia is embarking on another multimillion-dollar expansion of its retail empire, this time with the purchase of two sites, including a massive store that was once a Target.
Using about $8 million in tax-exempt bonds, Goodwill has purchased 2.6 acres in Goochland on which it is building a 17,000-square-foot store. And in August it will close on the purchase of a 9.7-acre, 117,000-square-foot store in a former Target store in Hampton.
Charles Layman, president and CEO of Goodwill Industries of Central Virginia, said the Target property is much larger than Goodwill's other stores, but the price and location was too good to pass up.
Situated near the Hampton Roads Convention Center and Hampton Coliseum, Goodwill snagged the site for $3.7 million. The building will also house an outlet center, a computer store, an employment center, meeting rooms, training rooms and offices.
"It became competitive when [Target] dropped the price. They were originally asking $9 million," Layman said. "The price is really what made the difference."
This is the second big-money expansion for the nonprofit whose retail stores drive revenue for its mission helping disabled and disadvantaged people find employment.
Goodwill last year went on a building spree with the help of about $15 million in bonds to acquire land and build almost 100,000 square feet worth of new stores.
The result is a retail and service operation that brings in about $50 million a year in revenue, has 1,000 employees, will soon have 30 stores, with plans for more in the works.
The activity is all part of the organization's strategic plan, Layman said.
"It really is around building our footprint so we can provide a level of services throughout all the territory we serve, which is Hampton Roads and Central Virginia," Layman said.
Headquartered on Midlothian Turnpike, Goodwill of Central Virginia will look to add another 15 to 20 stores over time, Layman said.
The growth is made possible by tax-exempt bonds issued by the Virginia Small Business Financing Authority, which helps nonprofits and other organizations issue bonds for certain types of expansion.
After some delays, the group on Wednesday approved Goodwill's bond application, which now goes to the governor's desk for signing. Suffolk-based TowneBank is handling the bonds, which pay about 3 percent interest and mature in 20 years.
Sales at Goodwill of Central Virginia's retail stores make up about 60 percent of the organization's revenue, Layman said. The rest comes from a growing business that provides staffing to the federal government and private organizations. It also runs Goodwill Staffing Solutions — its version of a temp agency — and receives money from grants and fundraising.
Goodwill last year provided services to 19,000 individuals and placed 1,529 people in jobs, Layman said.