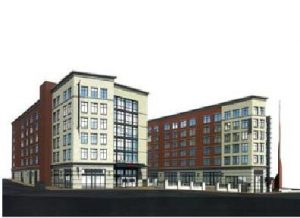 Shockoe Slip is getting a new hotel.
After a two-year slog through the special-use permit process, Apple REIT got the green light from Richmond City Council for the construction of the Marriott hotel development it plans at the corner of Cary and 14th streets.
City Council's unanimous approval Monday evening was the last major hurdle for 134,000-square-foot project. It had already been approved by the Richmond Planning Commission. (Councilman Bruce Tyler abstained from Monday's vote; his firm, Baskervil, worked on the project.)
Justin Knight, president of the downtown-based Apple REIT Companies, said he was glad to move forward with the project.
"It's a huge relief," Knight said. "As I've said all along, I think this is an exceptional project for the city of Richmond, and I think it's a great thing for the First Freedom Center as well."
Apple REIT has been working with the nonprofit First Freedom Center on the hotel. The center, which celebrates the 1786 Virginia law that guaranteed religious freedom and was drafted at the corner of Cary and 14th, will raise a monument to the legislation and have office space in the hotel.
Knight said that the six-story, 210-room hotel is fully funded by Apple REIT Nine, of the company's five funds that invest in hotels across the country and that the company hopes to begin construction in the first quarter of 2013.
As planned, the development is set to be U-shaped and split between two Marriott brands. Seventy-five rooms will be extended-stay Residence Inn rooms, and 135 will be Courtyard by Marriott rooms.
Williams Mullen attorney Andy Condlin, who has been representing Apple REIT, said the process took longer than expected because of issues surrounding the land titles on the parcel and issues concerning the relocation of parts of Virginia Street.
Condlin said the project is now out of the hands of the lawyers and into the hands of the builders.
"Our primary work was getting the project through the political process," he said. "It's mostly over to the engineers at this point."
Area businesses, including the business association Shockoe Partnership, had at various points raised concerns about parking and the effect on traffic. But at Monday's council meeting, nobody raised concerns either for or against the project during the public comment period.
"I think this going to be a huge shot in the arm for this area," Condlin said. "It's going to be an accelerator for the local economy, which I think it desperately needed. And I think the fact that nobody stood up and objected speaks to the support the project has in the community."