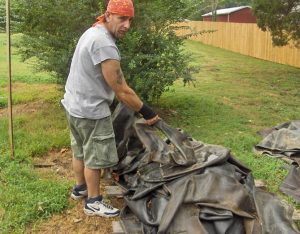 A Richmond company is giving old inner tubes new life.
Passchal, founded in 2004, makes high-end bags and purses from worn-out inner tubes. It's an idea that co-founder Angela Greene said hit her during a visit to Baltimore 13 years ago.
"I happened to be … going through a mall in the Inner Harbor," Greene said. "A backpack caught my interest because it had a license plate on it."
The backpack, adorned with a green and white Colorado tag, was made from a tire's inner tube.
"From then on, I really just became fascinated with inner tubes," Green said. "They have really beautiful markings, and it hit me that these things will be here forever."
Greene, who had already started two businesses, brought the inner tube bag idea to her boyfriend Ken Kobrick, a welder by trade, and the team founded Passchal nine years ago.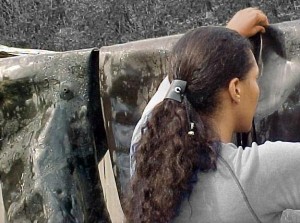 It took them about two and a half years to develop an environmentally-friendly inner-tube cleaning method, and Greene admits their first run at recycled handbags was not as successful as she had hoped.
"Our first ones were hideous," she said. "It weighed 10 pounds empty."
Since then, they have collected about 76 tons worth of inner tubes. They get the used tubes for free from tires centers. But the rubber, Greene said, is far from a usable product when she picks it up.
"They're full of antifreeze. They're filthy. They always have a huge spider in them," she said.
The inner tubes are cleaned and cut to workable pieces. Then they must be presoaked and cut to size for specific products before another cleaning and buffing. The prep process takes about a day, Greene said, before the polished rubber strips are sent off for production.
Two years ago, about 95 percent of Passchal's products were manufactured outside of Richmond. Now Passchal produces about 80 percent of its products in the city. The other 20 percent is manufactured by a company in California, and Greene is hoping to eliminate out-of-town production entirely.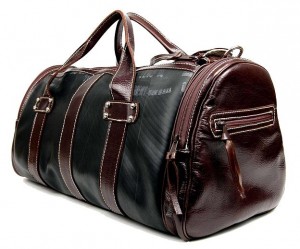 The finished products range from $25 for business card holders to $425 for large duffel bags. The bags are sold on Amazon and have been sold in Saxon Shoes and Neiman Marcus.
Passchal can produce about 100 items per week at its North Chesterfield workshop, but is working on upgrading the space. The project, which will cost about $75,000, will allow the company to manufacture all of their products in Richmond within the next six to eight months.
For now, Passchal is hoping to raise $25,000 via Kickstarter to spur a 2013 line of men's tech and travel gear. It's a step in shifting the company, which at first relied on products for women, to a men's bag brand.
"It's just been ironic to me and very exciting that in the area of fashion on Kickstarter, the three largest projects that have been funded are for men," Greene said. "I always knew that men shopped, but now I know that they really shop."