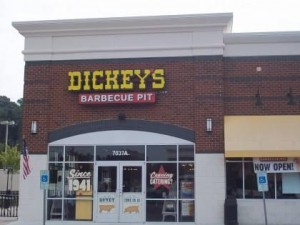 Glen Allen is getting smokier.
Two Richmond entrepreneurs are opening their second local Dickey's Barbeque franchise.
The new location, at 9809 W. Broad St. across from the Costco near the intersection of Gaskins Road, opens Thursday, with free pulled pork sandwiches for the first 100 customers.
Lisa and Terry Henshaw opened their first Dickey's franchise on Forrest Hill Avenue last summer. Lisa Henshaw said that the reception has been great and that they are looking to open three more stores.
"We're coming up on our first anniversary of our first store, and we thought it was a good time to go ahead," Henshaw said. "The spot became available, and we liked the location."
The new Dickey's is in a space that used to be a Chinese restaurant, but the Henshaws had to replace the rooftop AC units and the hood system and had to expand the bathrooms to make them accessible.
"The previous owners were here for 20 years, and the codes are different now, so it was more than we expected," she said.
In all, the Henshaws are putting about $250,000 into the 2,500-square-foot space.
Henshaw said eventually they are looking at building out three more Dickey's locations, with an eye toward Hull Street, Midlothian and Mechanicsville.
The new Broad Street location is the fourth Virginia location for Texas-based Dickey's. Company spokeswoman Kate Morganelli said that, after this week, the company will have 250 locations in 43 states and that the Mid-Atlantic was fertile ground for expansion.
"It has been very successful in Virginia, as evidenced by the fact that the Henshaws are opening a second location," Morganelli said. "We're also starting to hit the Carolinas, West Virginia, that whole area."
The original Dickey's location opened in Dallas in 1941.
For you barbecue nerds out there, Dickey's style is a hickory-smoked barbecue with a tangy, Texas-style sauce.