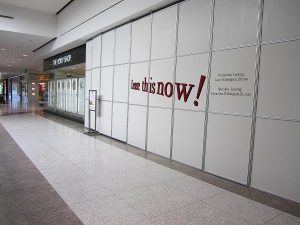 Richmond's malls are looking a little emptier these days, according to a recent BizSense tally.
A survey of five area malls shows 17 percent of more than 500 storefronts are vacant. That figure is up 4 percent from a similar count BizSense did in 2010 and almost twice the national vacancy rate.
According to July report from Reis, a national real estate research firm, regional malls currently average about 9 percent vacancy. Strip malls are faring slightly worse, with 10.8 percent vacancy.
Both of those numbers represent a slight decline from the first quarter of 2012.
Malls do not release vacancy figures, so local numbers were computed by counting each mall's empty slots and adding the current number of tenants to find a total available storefront figure. Anchor stores with a storefront on two levels were counted twice.
BizSense visited Short Pump Town Center, Regency Square, Virginia Center Commons, Chesterfield Towne Center and Stony Point Fashion Park. Willow Lawn was not included because of its ongoing renovation.
All spaces without a functioning business were counted as vacant, regardless of whether they carried any sort of "coming soon" or "under renovation" designation.
Short Pump Town Center has the area's lowest vacancy rate: 7.5 percent. Virginia Center Commons, which lost anchors Dillard's and Old Navy in the past year, was the emptiest shopping center surveyed, with a vacancy rate just above 30 percent.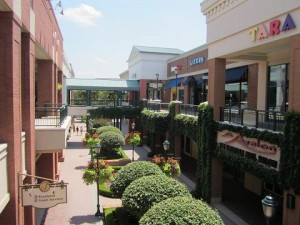 Regency Square, which had the second lowest percentage of empty storefronts in a 2010 BizSense report, now has the second highest vacancy rate. The mall is more than 20 percent vacant. Regency Square hit financial trouble last year when its previous owner, mall giant Taubman Centers, let its lender take control of the mall in lieu of foreclosure. 
Stony Point Fashion Park and Chesterfield Towne Center had vacancy rates of 10 percent and 14 percent, respectively.
Chesterfield Towne Center marketing manager Kelly Wilkes said new business and renovations would drive down vacancies at her mall in the near future.
"There is a natural degree of fluctuation of occupancy at shopping malls," Wilkes wrote in an email to BizSense. "We are excited about the grand opening of Best Buy Mobile and are anticipating the arrival of Spirit Halloween in August."
Regency Square marketing manager Secille Siverio is also optimistic.
"We have an awesome team of short-term and long-term leasing reps, and they are aggressively working to lease Regency Square," Siverio said. "We are actively pursuing a community outreach and we are inviting the community to join us. Besides that, we are the only shopping center in Richmond that has covered parking."