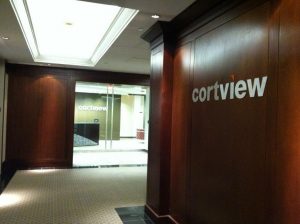 Just two years after putting down roots in Richmond, one of the area's newest financial firms has struck a deal that will move its headquarters northward.
Cortview Capital Securities, a bond broker-dealer founded in Richmond in September 2010, announced a deal Monday to merge with Stamford, Conn.-based Pierpont Securities.
Financial terms of the deal were not disclosed. Cortview spokesperson Meghan Gavigan would not comment further beyond what was contained in a joint release from the companies. The release did not explain whether any money changed hands in the deal.
The combined company will be known as Pierpont-Cortview Securities, and it will be headquartered in Stamford. Details were not released on how the deal might affect Cortview's Richmond operations.
Kelley Millett, who took over as Cortview's chief executive in July 2011, will serve as co-president of the new firm. Mark Werner, Pierpont's chief executive, will remain in that role once the deal closes.
The combined company will have more than 160 employees and 12 offices. Much of that will come over from Cortview.
As of May, Cortview had grown to almost 100 employees in nine cities, including its 8,000-square-foot headquarters on the 11th floor of Two James Center.
In May, Cortview added 24 employees at its offices in New York, Memphis, Boca Raton, Fla., Chicago, Los Angeles and Salt Lake City.
Cortview has grown quickly during its two-year existence with the help of cash form its private equity backer, New York-based Warburg Pincus.
The multibillion-dollar equity fund agreed to plunk down $125 million that Cortview can access in stages. Cortview is set up as a wholly-owned subsidiary of Cortview Capital Holdings, which is a portfolio company of Warburg Pincus.
SEC filings show that Cortview had tapped about $80 million of that capital as of May.
Cortview was founded by four veterans of the financial industry, including Ted Luse, who left BB&T Capital Markets to the launch the firm. Luse was the only local of the four founders.
Luse did not return a call or email to discuss the deal by press time.
Founding chief executive Michael Lacovara left Cortview this year for investment banking firm LionQuest Holdings.
Pierpont, founded in 2009, also has been funded by outside investors: Stone Point Capital LLC and General Atlantic LLC.
Stone Point and General Atlantic will remain investors in Pierpont-Cortview Securities once the transaction is complete, according to a release from the companies. There was no mention of what Warburg's role will be going forward.
The merger must still receive regulatory approval and is expected to close later this year.
Read more on Cortview, Pierpont and their place in the world of bond trading here.