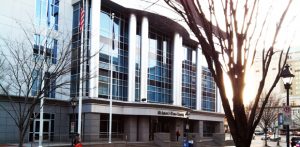 Fresh off its massive deal with Warren Buffett's Berkshire Hathaway, Media General is cleaning house.
The downtown-based company that until recently was the parent of the Richmond Times-Dispatch on Tuesday announced layoffs of 75 employees as it reinvents itself as a TV-centric media firm.
After selling almost all of its newspapers this summer to Berkshire, Media General consists of 18 TV stations and some web-based businesses.
The layoffs were announced Tuesday to employees in a letter sent by Media General CEO Marshall Morton that began: "Today is a difficult day here in Richmond."
"When we sold our newspapers last month, we changed from a company with revenues of $616 million in 2011 and approximately 4,000 employees to one that will have revenues this year of about $350 million and about 1,400 employees working at our television stations," Morton said in the letter provided to BizSense by Media General.
"The resources that were necessary to support our larger organization are not justifiable in our smaller, more focused company."
Media General spokesperson Lou Ann Nabhan said the company has been very open with employees and investors about its plan to scale back after shedding its newspapers.
The company has also said it would look to cut corporate expenses by 35 to 40 percent. These layoffs help meet that goal, Nabhan said.
Morton said in his letter that he regrets having to make staff reductions and that affected employees will receive severance and other support.
"These job losses come through no fault of the employees involved, but rather because of necessary changes we must make in the way we address our business," Morton said.
Of the 1,400 employees that remain, about 140 are based in Richmond. The company is headquartered on East Franklin Street.
News of the layoffs was first reported by jimromenesko.com, a blog that covers the media industry and received a copy of the letter.
As it struggled in the past few years with hundreds of millions of dollars in corporate debt and declining newspaper revenue, Media General had several rounds of layoffs, cutting positions mostly at its former newspapers. And as recently as June 2011, it instituted company-wide furlough days, forcing employees to take off as many as 15 unpaid days during a six-month period.
Meanwhile, Media General is in talks to sell its remaining newspaper operations in Tampa. Media General said in its recent quarterly report that it is in discussions with prospective buyers for the Tampa Tribune and its associated print and web operations. The company reported a $146 million loss for the quarter.
Its deal to sell 63 newspapers to a Berkshire subsidiary for $142 million was first revealed in May. As part of the deal, Berkshire gave Media General a $400 million term loan and a $45 million revolving credit line at more favorable terms than its previous corporate debt.
Read more on how the Media General and Berkshire deal came to be here.