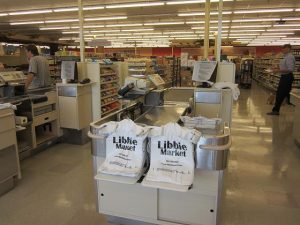 Libbie Market's supermarket-size sister store has arrived.
Buster Wright and David Taylor have opened Libbie Market Ridgefield in the old Food Lion building at Gleneagles Shopping Center in Henrico County.
The 32,000-square-foot store at the corner of Ridgefield Parkway and Gleneagles Drive is having its soft opening Thursday and a grand opening Saturday.
Taylor and Wright opened the first Libbie Market on Libbie Avenue in the West End in February 2010. The 12,000-square-foot grocery store took the place of Joe's Market, once a Ukrop's-owned specialty food store.
Libbie Market Ridgefield is almost three times as large as the original location. The store, complete with its own dining area, will employ about 90 people, Wright said.
Wright declined to specify how much the partners have spent to get the new store up and running, but he did say they are working with loans from Xenith Bank.
Taylor and Wright formerly worked for the Ukrop's grocery store chain. Taylor was Ukrop's director of merchandising and Wright was the director of purchasing.
Joe's was not included the sale of Ukrop's 25 stores to a Dutch supermarket conglomerate in 2009. Taylor said the partners became interested in Joe's Market when they figured it would not be in a potential buyer's plans.
"Larger companies tend to like cookie cutter. They don't like different because they're harder to manage," Taylor said. "We figured at some point the sale of Ukrop's was imminent, and we needed something to do, so we started looking at Joe's Market."
Wright and Taylor purchased Joe's in early 2010 and opened its just days after their last day at Ukrop's.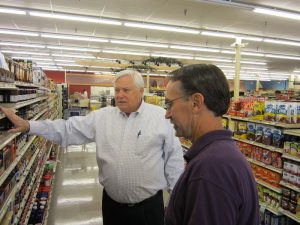 Wright said the partners added mainstream products to the former Joe's lineup, while keeping the upscale specialty brands. They plan to bring the same model to the new Ridgefield location.
"Our niche, our vision, is that our store will be a combination of mainstream products and high-quality, specialty products," Wright said.
Wright said he and Taylor had considered opening a second store but didn't have a set location or any firm plans until the Food Lion building became available. Taylor said the neighborhood surrounding the building made the location make sense.
"The demographics closely matched the demographics that we're trying to target at our current Libbie store," he said. "College educated, higher household income … higher than the Richmond median."
According to figures published by Blackwood Development Company, the average household income within one mile Gleneagles is about $120,000. The average income within a five-mile radius of the new Libbie Market is about $101,000.
Taylor said Ridgefield's offerings would include certified Angus beef, the neighborhood's largest wine selection and a 36-foot-long craft beer cooler. The new store also carries coffee from Carytown Coffee & Tea and specialty seasonings and sauces by Stonewall Kitchen and Robert Rothschild.
Wright is particularly proud of the food Libbie Market prepares onsite for its in-store cafe, which will include prime rib, meatloaf and Parmesan tilapia.
The store will also feature food from Gleneagles neighbor Ichiban Japanese Cuisine, which will bring sushi over twice a day. But Wright said his favorite onsite option is the salad bar.
"I eat lunch from the salad bar about half the days," Wright said.