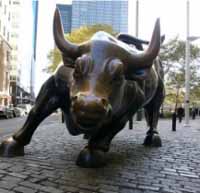 Altria (MO)
A subsidiary of the tobacco giant, Altria Client Services, entered into agreements with CEO Martin Barrington and CFO David Beran, allowing them to lease any of the company's three Gulfstream corporate jets, including a flight crew, on time sharing basis. Altria produced net earnings of $1.22 billion in its most recent quarter ending June 30, up from $444 million in the same period a year ago.
Apple REIT Ten
Justin Knight, the company's president, acquired 804 shares of Apple REIT Ten at $11 per share. Apple REIT Ten is one of five funds the company runs.
Community Bankers Trust (BTC)
Essex Bank, the company's bank subsidiary appointed Jeffery R. Cantrell as its new chief operating officer. He had been a senior financial officer at the bank since 2009 and previously worked at Regions Bank and another bank in Georgia. Cantrell was then granted options for 11,000 shares of the company's stock with an exercise price of $1.97 each.
Dominion (D)
Directors Helen Dragas and Robert Spilman Jr. each acquired 37 shares of Dominion stock at $54.31 per share as part of a directors compensation plan. Dragas owns more than 9,500 shares and Spilman now owns more than 5,000 shares.
Genworth Financial (GNW)
Chief Information Officer Scott McKay received 1,956 shares of restricted stock at no cost. Each share converts into a share of Genworth common stock. McKay owns more than 22,000 shares.
MeadWestvaco (MWV)
John Banu, vice president and controller, exercised options for 11,283 shares at $21.27 per share, a total of approximately $240,000. He then sold those shares at market price for $28.76 per share or a total of $324,000.
Star Scientific (CIGX)
Director Mario Mirabelli received options for 50,000 shares with an exercise price of $4.03 per share. The options are good until 2022.
Union First Market Bankshares (UBSH)
Union declared a quarterly dividend of $0.10 per share payable on Aug. 30 to shareholders of record as of Aug. 18.