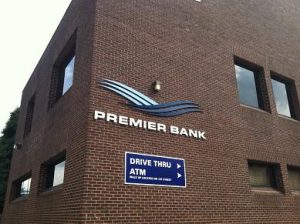 Another bank with local ties has taken advantage of an unexpected chance to buy its way out of TARP on the cheap.
Premier Financial Bancorp, the owner of the downtown bank formerly known as Consolidated Bank & Trust, last week spent $9.23 million to buy back about half of its TARP shares from the U.S. Treasury at a discount of almost 10 percent.
Premier found out in early July that its TARP shares, along with those of 11 other banks across the country, were going to be put up for auction by the Treasury as part of the Treasury's ongoing plan to cash out of the program for good.
Premier CFO Brien Chase said the company jumped at the chance to bid on the shares below their initial $1,000 per share price.
"Being able to buy them back at a discount was a gift," Chase said. "We weren't anticipating that."
Based in Huntington, W.Va., Premier entered the TARP program in October 2009, when it received $22.25 million from Treasury in exchange for 22,252 shares of the company's preferred stock.
"Once Treasury told us about the auction process, we started thinking about how much we could participate," Chase said.
The company ultimately scored the winning bid for 10,252 of its preferred shares for $901.03 per share, a total discount of more than $1 million.
Glen Allen-based First Capital Bank made a similar move in June when it spent $4.99 million to buy back half of its 11,000 TARP shares at an 8 percent discount. First Capital was the third Richmond-based bank to get out from under TARP.
Premier said it used the TARP funds to help it in its acquisition of the then-struggling Abigail Adams National Bancorp, which at the time owned two banks, including Consolidated Bank & Trust. The acquisition was aimed at getting the two banks back on stable ground.
That plan seems to have worked. Premier, which has $1.1 billion in total assets and four bank subsidiaries, announced last month that the Federal Reserve had lifted the written agreement that Consolidated had been under since July 2010.
Premier President and CEO Bob Walker said in a prepared statement: "We believe that Premier is a prime example of the success of the TARP Capital Purchase Program."
Consolidated and its Richmond branch at First and Marshall streets in Jackson Ward have since been merged into a new bank the company created called Premier Bank.
Chase said the Premier would look to buy back the remaining half of its shares, "whenever the time is right."
Eight local banks participated in the TARP program and received a combined $191.4 million in exchange for preferred stock. In addition to First Capital, Union First Market Bank and C&F Bank have bought their way out of the program.
Village Bank ($14.7 million), Essex Bank ($17.6 million), EVB ($24 million) and Central Virginia Bank ($11.3 million) remain in the program.