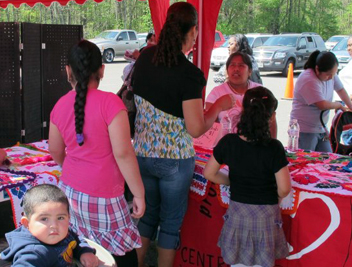 Struggling to gain traction, Richmond's newest farmers market is switching gears.
La Plaza Latino Market, which opened in mid-April with the intention of holding markets every Saturday, is trying its hand at Monday evenings in hopes of attracting larger crowds.
Held at the Broad Rock Sports Complex at the corner of Broad Rock Boulevard and Warwick Road, La Plaza has had trouble attracting customers who are used to going to other area markets on Saturdays, such as the popular South of the James Farmers Market.
"People still don't know that we're there," said Teddie Elliot, who along with other members the Merchants Club of Virginia, a local organization made up of Latino business owners, organized La Plaza.
"In the beginning, we were off to a good start but quickly fizzled," Elliot said. "And with the extreme heat, it's been very difficult."
Elliott said the market initially had about 19 confirmed vendors rotating one or twice a month. In the first couple of weeks, nine to 12 vendors showed up. But they didn't have too many customers.
"We just couldn't get the community to come out and support it," Elliott said. "So the vendors lost hope. They love the idea, but they need to be in a place where they are going to be producing."
La Plaza will now be Monday evenings from 5 p.m. to 9 p.m. at the same location at Broad Rock. La Plaza will run through Oct. 13.
Baseball leagues play at the park on Monday nights, and the market hopes to reach the fans.
"We figured there's already a crowd there — why not maximize that?" Elliott said.
Finding funds to promote the market has been an obstacle, but Elliott said it hopes to land a federal grant to help spread the word.
Distributed through the Richmond Foundation, the grant is available for advertising, educational events and equipment.
La Plaza has applied for up to $92,000 over two years, Elliott said.
The market also hopes to use some of the grant money to run classes on how to prepare healthy foods and teach healthy habits.
In the meantime, the market tried to spread the word on its shoestring budget by reaching out to nearby churches and working with Sacred Heart Center, a nonprofit in Manchester that works with the Hispanic community, to provide shuttles to bring people to the market.
In addition to food vendors, La Plaza will continue to try to attract vendors and businesses related to exercise and entertainment.
"We want the market to be a place for more than just getting fresh produce," Elliott said.
Elliott said she and her fellow organizers aren't giving up.
"We just need to stick with it," she said. "The concept is good. It's needed."