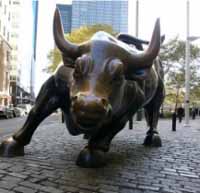 Altria (MO)
The tobacco king said it would buy back up to $2 billion of its long-term debt. It said the effort would help reduce its debt scheduled to mature in certain future years.
Apartment Trust of America
The Henrico-based apartment REIT recapitalized thanks to an infusion by investor groups of a portfolio of 21 apartment complexes with 6,100 units valued at $485 million.
It has also been renamed Landmark Apartment Trust of America. LATA gave up a $187 million interest and $16 million in cash and assumes $282 million in debt on the properties. The properties are being contributed by Elco Landmark Residential Holdings, DeBartolo Development, the Florida Value Funds and other investors. When the deal closes, LATA will own approximately 10,000 apartments in 36 properties in 17 markets in the Southeast. It also manages 12,000 units for other companies. It sold $50 million of its preferred stock to OPSEU Pension Trust and DeBartolo, along with warrants to purchase an equivalent amount of ATA common stock.
As a result of the deal, Joseph Lubeck, chief executive of ELRH, will become the executive chairman of LATA's board of directors. Stanley J. Olander will remain CEO of the REIT. Gus Remppies will continue in his role as president of the company.
BofA Merrill Lynch acted as exclusive advisor to ATA in connection with the transaction. Robert A. Stanger & Co. acted as financial advisor to the ATA board of directors. Evercore Partners acted as exclusive advisor to ELRH.
Bank of Virginia (BOVA)
The Midlothian-based bank said it reduced the par value of its common stock from $1 to $0.20 and of its preferred stock from $5 to $1. The bank has said it is considering a reverse stock split that would decrease the number of outstanding shares and ideally increase the value of the shares. It's trying to avoid being delisted from the Nasdaq market because its share price hasn't traded above $1 per share for a required number of days.
C&F Financial Corp. (CFFI)
James Hudson III, a director, sold 600 shares at $40 per share. He still owns more than 8,000 shares.
Media General (MEG)
In its latest quarterly report, Media General disclosed that it sold its DealTaker.com subsidiary for a nominal amount and shut down its production services company, which provided broadcast equipment and design services. Based in Texas, DealTaker is an online social shopping and coupon site. Media General said DealTaker.com "suffered the adverse effects of a significant change in the way Internet search results are delivered by Google." Attempts to adjust its software had not been successful.
Union First Market Bankshares (UBSH)
Douglas Caton, a director, bought 1,284 shares at $15.39 per share. He owns more than 400,000 shares of Union stock.
Universal Corp. (UVV)
The tobacco firm declared a quarterly dividend of $0.49 per share of common stock payable Nov. 12 to shareholders of record at the close of business Oct. 9.
Universal also declared a quarterly dividend of $16.87 per share on its Series B 6.75% Convertible Perpetual Preferred Stock, payable Sept. 15 to shareholders of record as of 5 p.m. Sept. 1.
John B. Adams Jr., a director, was awarded 1,550 shares of restricted stock valued at $45.87 per share.