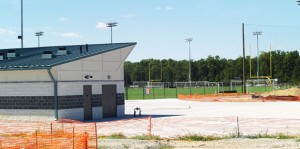 If an Iowa company has its way, it could be lights out at the complex formerly known as SportsQuest.
Musco Sports Lighting, the company that manufactured and installed the towering lighting systems on the turf fields at the Chesterfield complex, filed a lawsuit this month claiming it was never paid by SportsQuest for its products and that it has the right to have the lights removed from the facility.
Musco and SportsQuest Foundation entered into an agreement in May 2010 to lease the lights for the fields. Forty-six sets of field lights that sit atop 70-foot steel poles, visible to drivers on 288, were installed in June 2010.
SportsQuest Foundation, the nonprofit piece of founder Steve Burton's failed venture, agreed to make five annual rent payments of $61,000, the first being due Jan. 31, 2012. As has been the case for many of SportsQuest's contractors and vendors, Musco was never paid.
Musco's suit claims that SportsQuest Foundation is now in default of the lease agreement and owes $230,000 and should return the lights immediately.
The suit might be little more than an attempt by Musco to force the hand and open the checkbook of Shaw Sportexe, the turf company that foreclosed on and now owns the 115-acre property.
Shaw has agreed to honor agreements SportsQuest had with Chesterfield County for use of the fields. Local attorneys have said it would likely be up to Shaw to start trying to resolve the outstanding liens and other legal issues hanging over the complex.
Shaw has since the facility River City Sportsplex. Games continue to be played on the fields and under the lights.
In addition to SportsQuest LLC and SportsQuest Foundation, the suit names as defendants the Chesterfield County Economic Development Authority, Chesterfield County Attorney Jeff Mincks, Assistant County Attorney Michael Chernau, Mark Sowers, Shaw Industries and several companies that had already filed liens against SportsQuest, including J.E. Liesfeld Contractor and Daktronics.
The suit is trying to show that Musco's dispute should take precedence over any other claims against SportsQuest or on the land.
Complicating matters is the fact that the suit was filed less than 24 hours after SportsQuest LLC filed for Chapter 7 bankruptcy liquidation last week. SportsQuest LLC had been the main driver behind the grand vision of SportsQuest. But the bankruptcy filing showed the company had few assets and plenty of debt.
SportsQuest LLC managing director Dudley Duncan said he was not aware of the Musco suit.
Musco is represented by the Washington law firm DLA Piper. Attorney Mitka Baker said the firm could not comment.
Representatives at Shaw could not be reached by press time.