One of Richmond's biggest hotel owners might be close to buying a Short Pump hotel that's at the center of two multimillion-dollar lawsuits.
The first clue that Shamin Hotels had its eye on the Aloft Hotel at West Broad Village was a new business entity registered recently with Henrico County.
WB Hotel LLC, according to county records, is using the trade name "Aloft by W Hotel" and shares the trade address of the 135-room hotel located in the western portion of the popular mixed-use development.
The principal address of WB Hotel LLC is 2000 Ware Bottom Spring Road in Chester, the headquarters of Shamin Hotels.
Neil Amin, chief executive at Shamin, is the registered agent for the LLC.
And at least once principal at Shamin has a small ownership stake in the Aloft property, according to court records.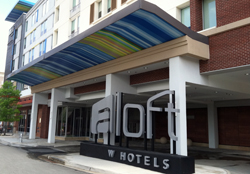 The potential deal for the Aloft property would give Shamin control of two of the newest hotels in the Short Pump area and add to its already large local hotel holdings.
Among the 30 hotels it owns are the Hilton Hotel and Spa in Short Pump and the nearby Comfort Suites Innsbrook.
The hotel's current owner, Short Pump Hotel Partners LLC, stopped making payments on a $19 million loan on the property in October and is in default.
The lender on the hotel, Midlothian-based Community Bankers Bank, then sued Short Pump Hotel Partners in May in Henrico Circuit Court, asking a judge to appoint a receiver to operate the three-year-old hotel in light of the default and the property being underwater.
The bank also sued LTD Management, a Chesapeake-based hotel developer and manager known now as LTD Hospitality. Short Pump Hotel Partners shares an address with LTD. And its managing member is Neel Desai, a principal at LTD.
That dispute led to a federal lawsuit filed by Community Bankers Bank against two North Carolina hotel developers who allegedly agreed to guarantee the loan for Short Pump Hotel Partners.
The defendants in that case, Ravi Patel and Chandra Patel, who founded and run Charlotte-based SREE Hotels, are disputing the bank's claims. A hearing will be held in federal court in Richmond next week to schedule a trial date.
Shamin declined to comment on the matter.
A message left for LTD's Neel Desai was not returned by press time.