A local used bookstore is calling it quits after eight years in Richmond.
Despite being across the street from a Barnes and Noble, the Book Room and owner Piet Jones thrived for almost a decade. Romance novels sold particularly well.
But the store, in the Willow Place shopping center on West Broad Street, will close Sunday, hit by the double whammy of e-books' rising popularity and a looming rent increase from a pending move.
"We've had a pretty good run," said Jones, who still owns another Book Room in Charlottesville. "We got hit pretty hard when e-books started coming out. It destabilized the business."
Until e-readers hit the market, Jones said, his store saw consistent annual revenue increases of 15 to 20 percent. At its peak, the two stores brought in total revenue of about $250,000 a year.
But some readers who converted to e-books have come back to print, Jones said. And the struggles of Barnes and Noble and similar stores made him hope that he could keep his Richmond location going.
"I was hoping we'd be able to get through this rough patch as the last of the big boxes collapse under their own weight," he said.
Then the Book Room's landlord asked it to move.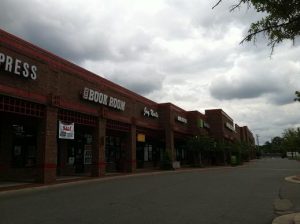 Willow Place shopping center on West Broad — between Libbie and Willow Lawn — is owned by Sauer Properties, the real estate arm of the Sauer spice empire.
Jones said the landlord wanted him to move the shop to a nearby parcel.
"The space wasn't nearly as desirable," Jones said.
Jim McVey, a broker with Commonwealth Commercial who is handling the space for Sauer, said he wouldn't discuss pending changess to the property.
Jones, who said there's no bad blood between him and the landlord, was also expecting a sizable rent increase when his lease expired next year.
"It's the rents that get bookstores," he said.
The Book Room gets its inventory from customers who exchange books for a store credit worth 25 percent of the publisher's sticker price. The store then sells the books at 50 percent of that sticker price. The Book Room also collects a trade-in fee on its exchanges, a practice adopted by some of its peers in recent years.
The Charlottesville location, which will remain in business, opened in 1978. Jones's mother bought the business from the original owner in 1991. He took over for his mother in 2001 and opened a Richmond location shortly thereafter.
Jones said he might revisit the idea of a Richmond location, but only with a few tweaks.
"In a year or two, maybe I'll try someplace else," he said. "It would have to be a hybrid of a coffee shop and a bookstore," in order to drive more traffic and find new sources of revenue.
In the meantime, Jones has been working to unload about 40,000 books from the 1,800-square-foot shop. Some will end up on the shelves of his Charlottesville store. Others will be purchased by other book dealers or donated to charities.
Jones, 47, also moonlights as a restaurant and food reviewer for Richmond Magazine. (He refused to be photographed for this story as to not have his cover blown for his reviews.)
There are still a few locally owned used bookstores operating.
The Midlothian Book Exchange has been in business since 1986.  Owner Martha Graydon said, despite Book Room's closing, she doesn't believe shops like hers are a dying breed just yet.
"Everyone has certainly seen an impact in the last two years, economy-wise," and from e-books, Graydon said. "But I'm seeing it trend back to print. Toys get old, and readers like to flip their pages. We're okay. We're in better shape than we were 18 months ago."
Her 8,400-square-foot store in the Village Marketplace Shopping Center has 300,000 books in stock and picks up new customers daily, Graydon said.
"I'm 45. My generation is always going to gravitate toward the printed word. My son's generation — he's 16 — they're all plugged in," she said.
"At some point I guess the printed word will go out. But probably not in my lifetime."