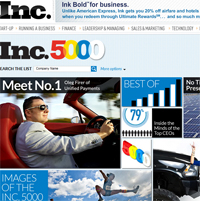 Twenty-eight of the 5,000 fastest growing private companies in the nation are headquartered in or near Richmond, according to the latest edition of the Inc. 5000.
Among the local companies on the list are eight IT firms, two ad agencies, a mosquito exterminator, a payroll company, a parking company and one of Richmond's biggest law firms.
The rankings, put out each year by Inc. Magazine, measure growth based on revenue from a three-year period: in this case, 2008 through 2011. Companies must be privately held, independent and based in the United States. And they must have generated at least $100,000 in revenue in 2008 and at least $2 million in 2011.
Of the 28 local firms on the list, four were named to the Inc. 500, as BizSense reported last week.
Hundreds of firms from Virginia made the list of 5,000, with the majority in Northern Virginia.
The highest ranked among the locals excluding those previously named in the top 500 was Wheat Systems, a Richmond IT firm that has 46 employees. At No. 562, Wheat Systems reported three-year revenue growth of 658 percent and annual revenue last year of $18 million.
In terms of annual revenue in 2011, the pack of 28 local companies on the list was led by Apex Systems. The Glen Allen IT firm reported $705.2 million in revenue last year and 75 percent revenue growth from 2008 to 2011.
Apex was followed closely by law firm McGuireWoods, which brought in $567.5 million in revenue in 2011 and had 19 percent revenue growth during the three-year period.
And next time you pay for parking downtown, remember that your money helped locally based City Parking bring in $3.6 million in revenue last year and land the 4,076 ranking on the list.
Here's the full rundown of Richmond companies in the Inc. 5000:
Rank: 562
Company: Wheat Systems
3-year growth: 658%
2011 revenue: $18 million
Industry: IT services
Employees: 46
Rank: 758
Company: Mosquito Squad
3-year growth: 460%
2011 revenue: $7.7 million
Industry: Consumer products and services
Employees: 27
Rank: 983
Company: Spacesaver Storage Solutions
3-year growth: 324%
2011 revenue: $4.1 million
Industry: Business products and service
Employees: 20
Rank: 1100
Company: TBL Networks
3-year growth: 289%
2011 revenue: $12.8 million
Industry: IT services
Employees: 21
Rank: 1155
Company: Estes Forwarding Worldwide
3-year growth: 273%
2011 revenue: $89.3 million
Industry: Logistics and transportation
Employees: 187
Rank: 1192
Company: Morton Consulting
3-year growth: 264%
2011 revenue: $7.9 million
Industry: IT services
Employees: 74
Rank: 1380
Company: Cornerstone RPO
3-year growth: 221%
2011 revenue: $6.7 million
Industry: Human Resources
Employees: 77
Rank: 1662
Company: Dynamic Mobile Imaging
3-year growth: 174%
2011 revenue: $5.1 million
Industry: Health
Employees: 63
Rank: 2717
Company: Barber Martin Agency
3-year growth: 86%
2011 revenue: $26.8 million
Industry: Advertising and marketing
Employees: 29
Rank: 2725
Company: Dominion Payroll Services
3-year growth: 85%
2011 revenue: $3.4 million
Industry: Human resources
Employees: 28
Rank: 2814
Company: Delta Pure Filtration
3-year growth: 82%
2011 revenue: $3.2 million
Industry: Manufacturing
Employees: 24
Rank: 2933
Company: Apex Systems
3-year growth: 75%
2011 revenue: $705.2 million
Industry: IT services
Employees: 991
Rank: 3175
Company: CapTech
3-year growth: 65%
2011 revenue: $49.9 million
Industry: IT services
Employees: 319
Rank: 3575
Company: Astyra
3-year growth: 51%
2011 revenue: $14.8 million
Industry: IT services
Employees: 131
Rank: 3888
Company: Rainbow Station
3-year growth: 40%
2011 revenue: $9.3 million
Industry: Education
Employees: 550
Rank: 3633
Company: Whitlock
3-year growth: 49%
2011 revenue: $193.7 million
Industry: Business products and services
Employees: 530
Rank: 3769
Company: SyCom Technologies
3-year growth: 44%
2011 revenue: $54.8 million
Industry: IT services
Employees: 124
Rank: 4076
Company: City Parking
3-year growth: 34%
2011 revenue: $3.6 million
Industry: Real estate
Employees: 9
Rank: 4135
Company: Taradel
3-year growth: 32%
2011 revenue: $2.8 million
Industry: Advertising and marketing
Employees: 11
Rank: 4459
Company: Networking Technologies and Support
3-year growth: 23%
2011 revenue: $15.4 million
Industry: IT services
Employees: 145
Rank: 4580
Company: McGuireWoods
3-year growth: 19%
2011 revenue: $567.5 million
Industry: Business products and services
Employees: 918
Rank: 4642
Company: James River Transportation
3-year growth: 17%
2011 revenue: $10.9 million
Industry: Logistics and transportation
Employees: 200
Rank: 4683
Company: Zooom Printing
3-year growth: 16%
2011 revenue: $2.2 million
Industry: Business products and services
Employees: 9
Rank: 4899
Company: Meadows Urquhart Acree & Cook
3-year growth: 8%
2011 revenue: $2.6 million
Industry: Financial services
Employees: 18