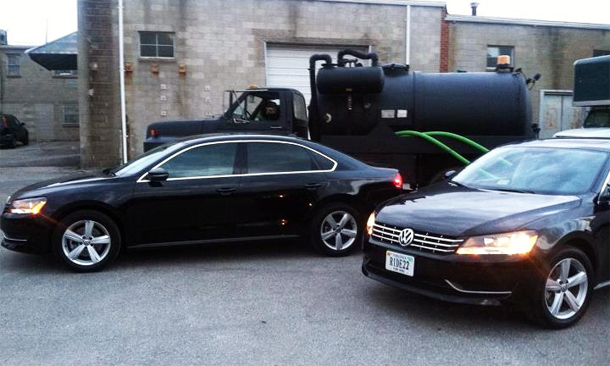 A local startup is getting a little less greasy.
BioRide, a taxi service that runs its fleet on biodiesel, will no longer stop by dozens of restaurants to pick up used cooking oil.
The two-year-old company struck a deal to buy biodiesel from Shockoe-Bottom-based
Reco Biodiesel, one of the largest producers of the fuel in Virginia.
The move lets BioRide founders and brothers Joey and Jeff Anderson focus on getting the taxi side of the business running like a well-oiled machine — free from the worry of making fuel.
"It's the next step for the company," said Joey Anderson, 23. "My brother and I were making the fuel ourselves. That's what got us on our feet. But it's a process."
The brothers founded the company in 2010 as BioTaxi with one black Mercedes.
Until recently, the company picked up grease from restaurants and schlepped it to a facility in New Kent County, where it was converted into about 150 gallons of biodiesel each week.
But as the business has grown, time for making fuel was harder to come by. And picking up new taxi clients became more pressing.
"I was limited by our labor force," said Joey, who was handling most of the biodiesel collection and processing. "We had a lot more grease coming in than I could make fuel with. And Reco was just down the street."
BioRide was getting its fuel for free, and now it's not. But the cost is worth it, the brothers said.
"We got rid of all our bigger equipment to make the fuel and can just dial down on the business," Anderson said.
BioRide's fleet is up to five vehicles, including an 11-passenger Mercedes Sprinter van, a Mercedes R-Class sedan and several Volkswagen Passats. And the taxi company handles between 70 and 130 rides per week.
The startup has nine employees, most of whom are drivers, and the Anderson brothers run the business.
The company's fleet consumes between 250 and 500 gallons of biodiesel a month, Joey Anderson said. BioRide has contracts with companies such as Health Diagnostic Laboratories and MeadWestvaco to shuttle workers to the airport and to Washington.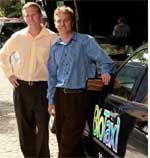 Anderson said he is hustling to land more big clients, such as Dominion and Altria.
Reco Biodiesel, meanwhile, is part of Virginia American Industries, a company that has been in Richmond since 1914. The company, which has its facility on Seventh Street, started out producing steam locomotives. It also has arms that do environmental cleanup.
Reco produces about 5 million gallons of biodiesel a year. The fuel is sold to gas stations and companies that have fleets of diesel-burning vehicles. Loveland Distributing is one of its local clients.
Rob Courain, sales manager at Reco, said the deal with BioRide made sense for both sides.
"They had a foot in their biodiesel production and a foot in their taxi business," Courain said. "They approached us and wanted to focus on their service, while still being a green-based company."
The deal is also good news for restaurants that had been providing grease to BioRide. Reco pays its grease accounts for the oil it picks up, which BioRide wasn't able to do as a startup.
"There is value to the oil, so we do pay the restaurants," Courain said. "We're making some money off of it, so we like to pass that on."