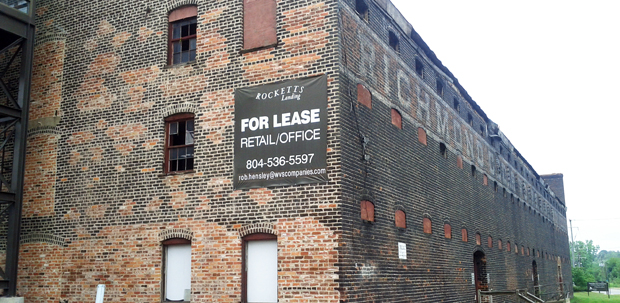 One of Richmond's largest law firms closed Friday on its new headquarters building at Rocketts Landing.
BrownGreer will buy the building from developers WVS after the 38,000-square-foot Cedar Works building is renovated. BizSense reported in April that BrownGreer had signed a letter of intent to buy the property. 
"By the time it goes to BrownGreer, it will be a fully built-out office building," said WVS principal Richard Souter.
BrownGreer and WVS have worked for months on the details of the deal, which included everything from the design of the build-out to details about the 130 parking spaces, Souter said.
BrownGreer is the third largest law firm in Richmond based on number of attorneys, according to a list RBS compiled this week. The firm has offices in Shockoe Slip and at the Highwoods Commons building in Innsbrook.
J.D. Lewis Construction Management will be the contractor, and H&A Architects worked on the design. Both companies have worked extensively on WVS projects across town. H&A designed the Boathouse at Rocketts Landing, and J.D. Lewis is doing the construction at the Reynolds North plant.
The construction is being financed by Union First Market Bank, Souter said. Union First is also financing BrownGreer's purchase of the building when it's transferred to the law firm in March.
Souter said WVS was happy to sell the building but is also happy to be a landlord, as it is to law firm Rawls McNelis + Mitchell, which leased 6,000 square feet at the old Rocketts Landing sales office this year.
"We'll work with any deal structure," Souter said.
BrownGreer founder Orran Brown wouldn't disclose the final purchase price.
The firm has ballooned to more than 700 employees to accommodate a mountain of claims processing generated by the firm's work on the BP oil spill. (You can read more about that here.)
Brown said that once the firm drops back to size the space will be big enough to hold the entire firm but that BrownGreer will need overflow space for the foreseeable future.
"Most of the time, the Cedar Works building will be big enough for our Richmond operation," Brown said. "Right now, because of the Gulf project, we're bigger than normal. And that will last for maybe a year or two — maybe more."
Brown said the cost of the renovations became more expensive than the original plan presented by WVS because the firm wanted to salvage and refinish much of the original wood in the building and wanted to use expensive bathroom fixtures, among other things.
The building's original tenant, the Richmond Cedar Works Manufacturing Corporation, made ice-cream maker parts and decorative wood fittings until it closed in the 1960s.