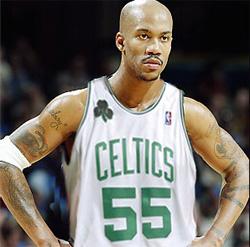 A former star Georgia Tech point guard and NBA All-Star was sued in Richmond Circuit Court last week for defaulting on a loan on investment properties that included a commercial building in Petersburg.
U.S. Bank, which is servicing a bundle of loans originally owned by Wachovia, sued Stephon Marbury and several of his investment entities — one of which is called Starbury GSA — for $3 million. Marbury's nickname as a high school phenomenon was "Starbury."
The suit contends that, through the entities, Marbury bought industrial and office properties across the county, including one on Poplar Drive in Petersburg that was leased to the US. General Services Administration for use by the Social Security Administration. Marbury also had investment property in Ohio and Colorado, the suit claims.
Wachovia lent $1.4 million to Marbury in 2007. In August 2011, U.S. Bank foreclosed on the Petersburg property and sold it for $1.31 million, according to the suit. The bank alleges that it is still owed $1 million by Marbury, which includes unpaid interest and legal fees.
Marbury — who the suit claims personally guaranteed the loans — also lost a Los Angeles home to foreclosure, according to a story on the gossip site TMZ. Marbury owed $3.1 million on the 8,000-square-foot home.
An NBA journeyman, Marbury began his career with the Minnesota Timberwolves and eventually played for five NBA teams. He was mostly recently playing for the Beijing Ducks in China. (You can read a Wall Street Journal story about his experience in China here.)
U.S. Bank is being represented by attorney Vernon Inge from LeClairRyan. Inge declined to comment on the case. BizSense was unable to find a contact for Stephon Marbury, and no lawyer is listed in the lawsuit.
More reading:
In 2011, Goochland resident and former UVA star Cory Alexander sued Wachovia, claiming they mishandled his investments. That case was eventually dismissed.